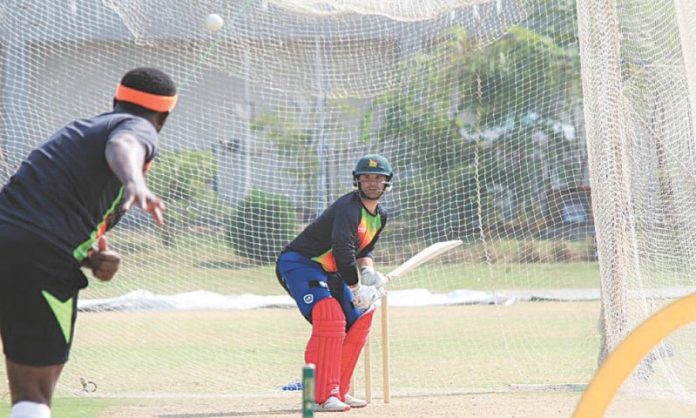 He said that last time his team visited Pakistan in 2015 and now after five years they are here again to play limited over matches. "Obviously, it is good to be back in Pakistan," he said on Wednesday during a virtual press conference.
"We are here to win. Of course, every match of the series is important for us as Zimbabwe is keen to qualify for the next World Cup," he said. "And though Pakistan is a strong team, our side also have some experienced players and I am confident this tour would be a good one for us."
Zimbabwe's 20-member squad is being led by Chamu Chibhabha and Chigumbura said that his team-mates are happy and feeling good about playing international cricket here in Pakistan.
Talking about Zimbabwe's last tour, the 34-year-old all-rounder said that his team was initially a little bit scared on the tour then, but the way Pakistan hosted them at that time was wonderful and reassuring and now everyone is feeling very comfortable in Pakistan this time round. "After having training sessions today, we are looking forward to matches," he said.
To a query regarding the absence of head coach Lalch­and Rajput, he said that nothing has changed. "Nothing has changed, still the same system and same values that we have in the team. So nothing has changed, except that Covid-19 has restricted things a bit for everyone.
"In fact he [coach Rajput] is there and having meetings over conference calls," he said and added that coach is part of the strategy and planning.
Zimbabwe's coach, who is an Indian national, despite having a Pakistani visa, is not part of the visiting squad as the Indian government had asked him not to visit Pakistan. "In his place, bowling coach Douglas Hondo is supervising the things.
Chigumbura said that the team's assistant coach, who has been working under him [Rajput], is leading the team. "So nothing has changed really," he said.
The visiting team is slated to play three ODIs (all in Rawalpindi) starting from Oct 30 followed by as many T20 International matches on the tour, which are to be staged in Lahore.
The dashing all-rounder also talked about his own performance, stating that this tour is a good opportunity for him to repeat his previous performance in Pakistan. He said that due to injuries he remained away from cricket for almost one year but when he was about to start playing again, he got another injury and so his absence from international cricket was a prolonged one.
"But I am fully fit now and looking forward to this series," said Chigumbura.
"Pakistani wickets are good for batting and I am hopeful about getting back to where I was," he said while recalling his superb performance during the 2015 tour when he also scored a hundred.
The Zimbabwean team held a training session at the Army Cricket Ground, where Chig­u­mbura said they found almost similar conditions they have had in their country.
It is relevant to note here that after playing Zimbabwe, Pakistan will also host South Africa in January and then possibly England which is great news for the home fans.