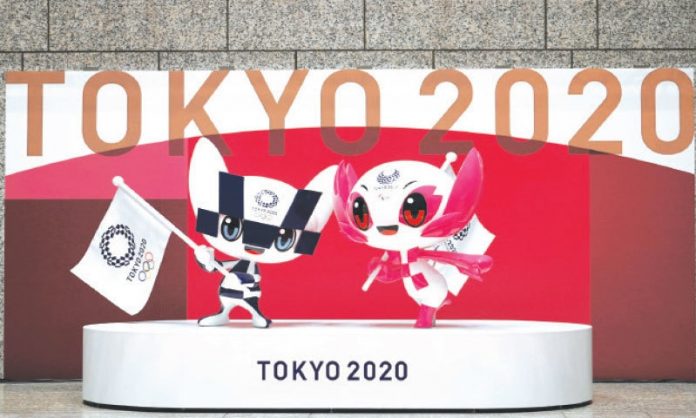 TOKYO: A second section of the Tokyo Olympics torch relay was pulled from public roads over spiking coronavirus cases on Wednesday, fueling fears about whether the postponed Games should go ahead with just 100 days until the opening ceremony.Even as Tokyo unveiled installations featuring the Olympic rings and mascots to celebrate the 100-day milestone, organisers face monumental challenges as virus surges.
They have barred overseas fans and delayed test events, but insist preparations are on track for the Games to open a year late on July 23.
Cancellation is "certainly not" on the table, International Olympic Committee (IOC) vice president John Coates told reporters on Wednesday.
"The Tokyo Games will be the light at the end of the tunnel."
For organisers, there are some causes for optimism.
The Olympic torch is on its way across Japan, despite already being forced off roads in the Osaka region where it was being carried around a closed circuit Wednesday with the general public kept away.
And vaccination programmes are ramping up in many countries, with some athletes already inoculated.
Japan won't require Olympic participants to be vaccinated, but the IOC is encouraging jabs and has secured Chinese-made doses for athletes in countries without access to them.
In Japan, sports events are still on, with crowd numbers capped, and fans have become used to virus rules that will be implemented at this summer's Games, including a ban on cheering.
North Korea's decision to skip Tokyo 2020 over virus concerns has not prompted a rush for the exits, with athletes mostly seeming impatient for a return to the international stage.
In Japan, a historic golf Masters win by Hideki Matsuyama and swimmer Rikako Ikee's comeback — just two years after being diagnosed with leukaemia — are offering a feel-good factor.
But there's no disguising the challenges more than a year after the pandemic caused the event's historic postponement.
Surges of Covid-19 across Japan have forced the government to tighten restrictions only weeks after they were lifted and on Wednesday, the head of Tokyo's Medical Association warned the rising infections could make holding the Games "really difficult".
The governor of western Ehime region announced the public torch relay would be scrapped later this month in the city of Matsuyama, citing the "extreme pressure" on local medical services from rising cases.
Tokyo 2020 organisers said a spectator-free relay event would be held behind closed doors instead.
Coates acknowledged the situation, but insisted organisers and Olympic officials are fully prepared.
"Of course we're concerned, of course safety remains our priority, but we believe that we're prepared for the worst situations," he said.
At a ceremony on Wednesday to mark 100 days to the Games, Tokyo Gove­rnor Yuriko Koike said she was determined to make the event a success despite difficulties.
"The fight against an invisible enemy, the coronavirus, is behind the one-year postponement [of the Tokyo Olympics to 2021], and it has been a major ordeal for humanity," Koike said. "I would like us to overcome the fight against the coronavirus and make the Games a memorable event."Some local organisers complain that information from Tokyo has come slowly, and that they learn about key developments from the media.Others, like Mie Watanabe, readying the road race course in Oyama, a city 90 kilometres (56 miles) southwest of Tokyo, worry months of their work could go to waste.
"The fact that we don't know if roadside spectators will be allowed is a big problem for us it means some of our preparations won't be needed," said Watanabe, listing items such as tents, toilets, and parking spaces.
Organisers in Oyama have set aside money to buy up to 5,000 masks for the onlookers — if they are allowed to gather.
"Once we do find out, it's going to be a real scramble," Watanabe said.