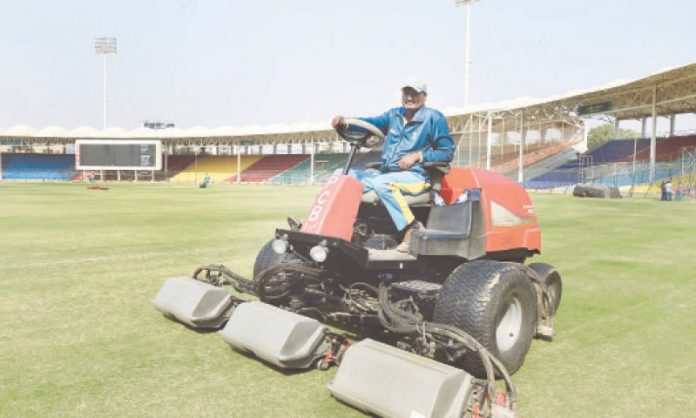 KARACHI: For Tabish Khan and Nauman Ali excitement had not gone away. And although the final 16-man Pakistan squad is yet to be announced, both stated as living in the dream after they were named in the preliminary party of 20 for the first Test against the Quinton de Kock-led South Africa side here at the National Stadium next Tuesday.
Addressing a virtual media conference on Tuesday, Tabish — who turned 36 on Dec 12 — expressed sanguinity after years of disappointment at being constantly overlooked by the national selectors who failed to reward him for sustained pace bowling and performing exemplary season after season in domestic cricket, while revealing that he wasn't even expecting a call-up for the upcoming series.
"It sounds surreal to be honest because I had no idea that there was any chance of getting the opportunity [of selection in the Pakistan squad]. In fact, when the team was being announced I was busy with some work in my room when a friend rang up to inform me that I had been picked in the 20-member team," Tabish, the Karachi-born paceman, said.
"I thought my friend must be kidding but upon his insistence, I switched on the TV to see the squad being announced and I had it wait for a while my name was last to be read. Then only I realised my friend wasn't joking. Thereafter, I told my mother and family members what has happened. But my mother, who was going out, kept saying: 'Son, you had been constantly overlooked in the past despite your brilliant performances. Somebody is only pulling your leg.'
"However, when she returned shortly after afterwards she became very excited after watching the TV news and immediately sat on the praying mat to offer gratitude to the Almighty Allah, as did all family members. Just cannot express the feeling I had at the time. But nonetheless I was very, very happy."
Tabish, who is just two shy of the 600-wicket landmark at first-class level, acknowledged the experience of playing his cricket in Karachi during most of his 18-year career — he debuted in 2002-03 and has so far played in 137 first-class games — would serve as confident-booster if he gets to play in the first Test next Tuesday.
"Obviously, if one is used to the conditions then it becomes relatively easier to absorb the pressure that Test cricket brings. Therefore, I have fair idea of how the ball tends to behave during the course of the match. It would a dream come true Insha'Allah if I get the chance to play in my own city, and hopefully a decent performance open ways for further opportunities coming my way," Tabish added. "But at the moment I prefer to live in the dream."
Nauman, who led Northern in the Quaid-e-Azam Trophy, said during his presser that he would forever cherish the moment when the team manager informed him of his inclusion in the preliminary squad.
"It was an exciting time for me when our [Northern] team manager came towards me while I was busy at a practice session and said that I had been picked in the Pakistan squad, and like Tabish says it still feels like a dream," Nauman, who has 285 wickets in 79 first-class matches after debuting in January 2007, admitted.
Hailing from Khipro — reputed to be the largest administrative unit of Pakistan — in the Sanghar district, Nauman spent his early days there and began playing cricket at the school level until the family moved when his father was transferred to Hyderabad.
Nauman, whose maternal uncle Rizwan Ahmed played an ODI against Zimbabwe at Sheikhupura in February 2008, said: "I never gave up hope and kept performing in domestic tournaments for Hyderabad, KRL [Khan Research Laboratories] and now Northern. Last two seasons have been productive for me [he was the highest wicket-taker in 2019-20 with 54 victims and second behind Sajid Khan's 67 wickets with 61]."
Nauman further said he idolised legends such as Wasim Akram and Brian Lara in the early days of career.
"Since then my role models have been great Test spinners Daniel Vettori and Rangana Herath among left-armers and [great Pakistan off-spinner] Saqlain Mushtaq. I admire their work ethic and the way they performed in international cricket.
"And if I'm fortunate enough to play Test cricket, it would be a massive boost for the cricketers of interior Sindh and it will further encourage youngsters of other remote areas to take up the sport," Nauman concluded.