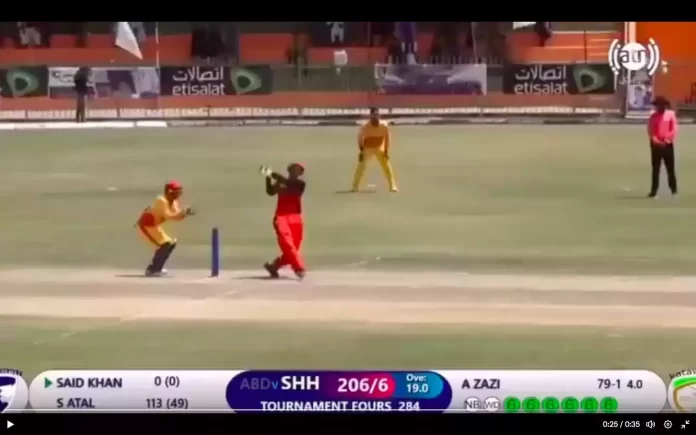 In a thrilling Kabul Premier League Twenty20 match between the Shaheen Hunters and Abasin Defenders at the Ayobi Cricket Stadium, an incredible display of power hitting by 21-year-old Afghan cricketer Sediqullah Atal captured the attention of cricket fans worldwide.
The match, which took place on Saturday, became a spectacle of sensational batting.
Atal, an emerging all-rounder with one T20 international cup under his belt, was already batting strongly on 76, with his team's score at 158 for six. The momentous over occurred when spinner Amir Zazai stepped in to deliver the 19th over. Until then, Zazai had conceded 35 runs for one wicket off three overs, but his first delivery in this over turned the tide.
Also, read Brilliant Century by Saud Shakeel Guides Pakistan to First-Innings Lead in Test Match Against Sri Lanka
Unfortunately for Zazai, he overstepped the crease, resulting in a no-ball, and Atal seized the opportunity, smashing the ball for a colossal six. The next delivery was a wide, sailing past the keeper for four byes, adding 12 runs to Atal's tally in just two balls. To make matters worse for the bowler, he still had six balls to bowl.
But those six balls would prove disastrous for Zazai and the Abasin Defenders as each one of them was brutally dispatched by Atal over the boundary ropes. The sheer power and precision of Atal's strokes left everyone awestruck as he finished the innings on an astounding 118 not out from just 56 balls.
This incredible display of batting prowess by Sediqullah Atal became the highlight of the Kabul Premier League, captivating cricket enthusiasts not just in Afghanistan but also drawing the attention of sports fans from Pakistan and around the world. The impressive performance has now become the talk of the town, with cricket news and sports updates buzzing with praise for the young Afghan international cricketer.