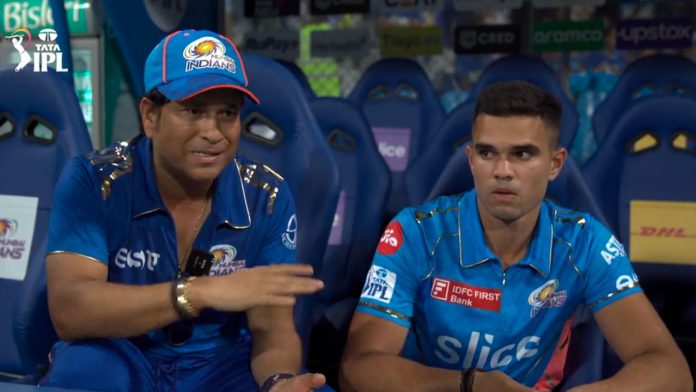 Sachin Tendulkar, the legendary Indian cricketer, and his son, Arjun Tendulkar, made history on Sunday by becoming the first father-son duo to play in the Indian Premier League (IPL). 
Sachin, who holds the record for scoring the most runs in international cricket, played six seasons for Mumbai Indians and currently serves as the team's mentor. Arjun, at the age of 23, made his IPL debut for Mumbai Indians in their match against Kolkata Knight Riders, opening the bowling and conceding 17 runs in his first two overs before being replaced.
Following his son's debut, Sachin took to Twitter to congratulate him, writing, "As your father, someone who loves you and is passionate about the game, I know you will continue to give the game the respect it deserves and the game will love you back." Sachin added that he had not previously watched his son play cricket and wanted to give him the freedom to express himself on the field.
The Tendulkars spoke about the historic day in a post-match interview, with Arjun saying, "It was a great moment, it is always special to play for the team I have supported since 2008. And it was very nice to get the cap from the captain of MI and the Indian team." Sachin also expressed his excitement at his son's debut, saying, "It is a different feeling because 2008 was the first season for me, and 16 years down the line, he plays for the same team. Not bad."
Arjun has played seven first-class matches for Goa, having relocated to the western state last year. Sachin started his career with Mumbai state's junior team and was selected for the senior team at the age of 15. He went on to become the highest Test scorer of all time and the first player to score 100 international centuries before retiring in 2013. The Tendulkars' appearance in the IPL marks a significant milestone in the tournament's history, with the father-son duo becoming the first to achieve the feat since its inception in 2008.