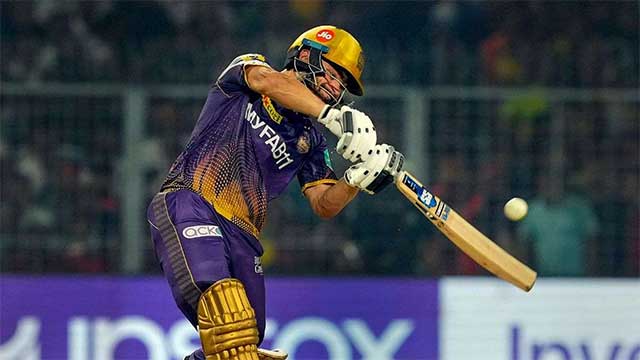 The victory was a culmination of the hard work put in by the 25-year-old left-hander and the unwavering faith and support from the KKR franchise. 
In a stunning display of power hitting, Kolkata Knight Riders' Rinku Singh hit five consecutive sixes in the final over to lead his team to a sensational victory over the Gujarat Titans in the Indian Premier League (IPL) on Sunday. Singh's unbeaten knock of 48 runs off just 21 balls included six sixes and a four, and helped KKR chase down a 200-plus total in the dying moments of the game.
Singh comes from a lower-middle-class family in Aligarh, Uttar Pradesh, and had to work odd jobs, including as a domestic worker, to support his family. However, his dedication and perseverance paid off, and he now has a contract worth Rs 55 lakh with KKR.
In his first season, he played in 10 matches and scored 98 runs at an average of 24.50, with a high score of 36 not out. He also took two wickets with his left-arm spin. However, he had a relatively quiet season in 2019, playing only one match and scoring just 4 runs.
Singh did not play in the IPL in 2020, but he was retained by KKR for the 2021 season. He played in only three matches, scoring just 15 runs at an average of 5.00.
Overall, Singh's IPL career has been modest so far. He has played in 14 matches, scored 117 runs at an average of 16.71, with a high score of 36 not out. He has also taken two wickets with his left-arm spin.
Singh, who is one of the earliest products of the KKR academy, has worked extensively with the team's assistant coach Abhishek Nayar, and the results were evident in the Ranji Trophy as well. Despite the heartbreak of not being able to take his team over the line in a similar situation last year, Singh had the belief that he could do it this time around.
Rinku Singh's brilliant performance took twitter by storm. 
KKR skipper Nitish Rana lauded Singh's heroics and suggested that he deserves a bigger role in the team. Venkatesh Iyer, who anchored the chase with a stunning 83 from 40 balls, called the match the "Lord Rinku show" and said that it will be remembered for a very long time.
Overall, Singh's knock will go down in IPL history as one of the most unlikely yet sensational victories. It is a testament to the power of hard work and belief in oneself, and a reminder that anyone can achieve greatness with dedication and perseverance.