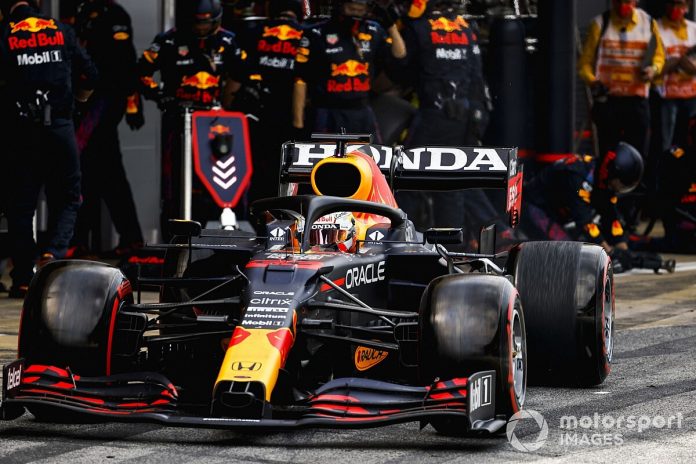 Christian Horner has a theory about Lewis Hamilton's 'bendy' wing claim.
Team principal Christian Horner has questioned the origin of Lewis Hamilton's comments after the Spanish Grand Prix, where Mercedes appeared to accuse Red Bull of using a 'bendy' wing which could give them an unfair advantage.
The seven-time world champion, who extended his lead over Red Bull with a win in Barcelona, claimed their rivals had a flexible wing which would provide more speed on the straights, and maximum downforce towards corners.
"The Red Bulls are really fast on the straights," he said to Sky Sports F1. "They have this bendy wing on the back of their car which they put on today and they gained at least three tenths."
However, the Red Bull boss denied the allegations, and was adamant their car was fully legal, and that their rear wings had passed stringent tests.
"Of course the car is scrutineered thoroughly," said Horner.
"There's pullback tests, there's all kinds of different tests it has to pass.
"The FIA are completely happy with the car, that it's past all those tests that are pretty stringent."
Horner also addressed Hamilton's claims specifically, admitting the Mercedes team principal Toto Wolff had already had a similar conversation with him in the past.
He declared: "I was surprised to see his comments on that but it's something Toto has mentioned to me previously, so I doubt it was Lewis' opinion and came from elsewhere."