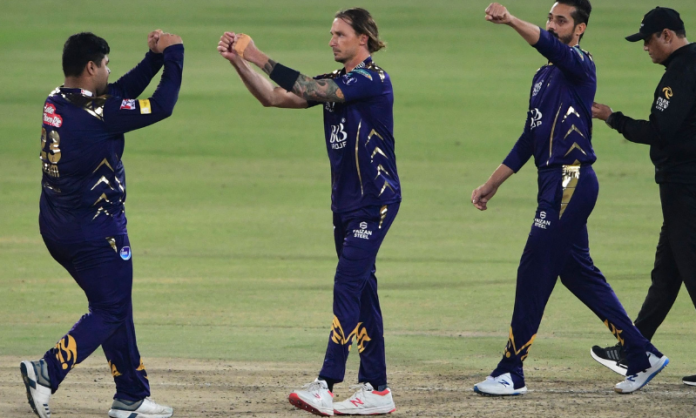 KARACHI: Quetta Gladiators were left smiling on Wednesday as they finally stopped a four-match losing streak in the HBL Pakistan Super League 6 as the 2019 champions sealed a 22-run victory over Multan Sultans in rather unusual circumstances at the National Stadium on Wednesday.
After posting 176-7, Quetta made a startling comeback by bowling out Multan for 154 to break the 13-match sequence of chasing sides emerging victorious, which also put a break to the run of four straight six-wicket wins.
The night match — which pitted Mohammad Rizwan and Sarfaraz Ahmed against each other as captains of their respective teams — was very much in Multan's grasp until leg-spinner Qais Ahmad turned the tide dramatically towards Quetta with three wickets for nine runs in the space of 12 balls during the middle overs.
The 20-year-old Afghanistan international, who was named man-of-the-match, broke the threatening opening partnership of 63 by dismissing James Vince (24 off 20 balls, four boundaries) and got rid of left-handers Shan Masood — who was playing his first game after leading Multan last season — and Rilee Rossouw.
Sohaib Maqsood (2), Khushdil Shah (19) and Carlos Brathwaite (4) didn't stay long enough with Rizwan to take Multan closer, but Quetta had all but wrapped the match when Rizwan, the top scorer with 66 from 50 balls (seven fours and two sixes) was brilliantly caught in the dep by Mohammad Hasnain.
And although Zahid Mahmood was cruelly robbed of a hat-trick — when Ben Cutting fumbled running in from the deep — Quetta were well on their way to a win that now opens the tournament nicely with them still rooted at the bottom of the six-team standings.
Earlier, Usman Khan made a spectacular T20 debut by smashing 81 in a 50-ball knock embedded with 10 boundaries and two sixes. He shared in productive opening partnership with Saim Ayub (23 off 18 balls) as the duo put on 69 in 48 deliveries.
Former South Africa leg-spinner Imran Tahir marked his first game in this tournament with an overzealous act of celebration when he had the left-handed Saim caught in the deep by Khushdil. He not only peeled off just shirt but also pointed to the image of his close friend Tahir Mughal, a former first-class cricket who passed away sometime back, on the jersey underneath.
But Quetta obviously owed a huge debut to Usman. The 25-year-old, who has appeared in just two first-class matches in 2017, batted with real authority as the emerging category pick underlined his presence with some delightful strokes.
Current standings
(Tabulated under, played, won, lost, tied, no-result, points, net run-rate):
Karachi Kings 5 3 2 0 0 6 +0.697
Peshawar Zalmi 5 3 2 0 0 6 +0.430
Islamabad United 4 3 1 0 0 6 +0.202
Lahore Qalandars 4 3 1 0 0 6 +0.273
Multan Sultans 5 1 4 0 0 2 -0.213
Quetta Gladiators 5 1 4 0 0 2 -0.970
Scoreboard
QUETTA GLADIATORS:
Usman Khan lbw b Imran Tahir 81
Saim Ayub c Khushdil b Imran Tahir 23
F. du Plessis b Sohail 17
Azam Khan lbw b Shahnawaz 17
Sarfaraz Ahmed b Imran Khan 3
B.C.J. Cutting lbw b Shahnawaz 10
M. Nawaz c Rizwan b Shahnawaz 20
Qais Ahmad not out 2
EXTRAS (W-3) 3
TOTAL (for seven wkts, 20 overs) 176
FALL OF WKTS: 1-69 (Saim), 2-122 (Usman), 3-122 (du Plessis), 4-131 (Sarfaraz), 5-154 (Azam), 6-155 (Cutting), 7-176 (Nawaz).
DID NOT BAT: Zahid Mahmood, D.W. Steyn, Mohammad Hasnain,
BOWLING: Sohail Khan 4-0-33-1; Imran Khan 4-0-22-1; Shahnawaz Dhani 4-0-44-3; Brathwaite 4-0-43-0 (2w); Khushdil Shah 1-0-5-0; Imran Tahir 4-0-29-2 (1w).
MULTAN SULTANS:
M. Rizwan c Hasnain b Zahid 66
J.M. Vince c Sarfaraz b Qais 24
Shan Masood lbw b Qais 1
R.R. Rossouw c Usman b Qais 3
Sohaib Maqsood c Cutting b Nawaz 2
Khushdil Shah c Saim b Hasnain 19
C.R. Brathwaite c Cutting b Hasnain 4
Sohail Khan c du Plessis b Hasnain 8
Imran Tahir run out 14
Imran Khan not out 0
Shahnawaz Dhani c du Plessis b Steyn 0
EXTRAS (B-1, LB-2, W-10) 13
TOTAL (all out, 19.4 overs) 154
FALL OF WKTS: 1- 63 (Vince), 2-65 (Shan), 3-86 (Rossouw), 4-90 (Sohaib), 5-127 (Khushdil), 6-131 (Brathwaite), 7-139 (Rizwan), 8-139 (Sohail), 9-154 (Imran Tahir), 10-154 (Shahnawaz).
BOWLING: Mohammad Hasnain 4-0-34-2 (2w); Steyn 3.4-0-34-1 (2w); Zahid Mahmood 4-0-39-2; Mohammad Nawaz 4-0-23-1 (1w); Qais Ahmad 4-0-21-3 (1w).
RESULT: Quetta Gladiators won by 22 runs.
UMPIRES: Asif Yaqoob (Pakistan) and Faisal Afridi (Pakistan).
TV UMPIRE: R.K. Illingworth (England).
MATCH REFEREE: R.S. Mahanama (Sri Lanka).
MAN-OF-THE-MATCH: Qais Ahmad (Quetta Gladiators).
THURSDAY'S FIXTURE: Islamabad United vs Lahore Qalandars (7:00pm PST).