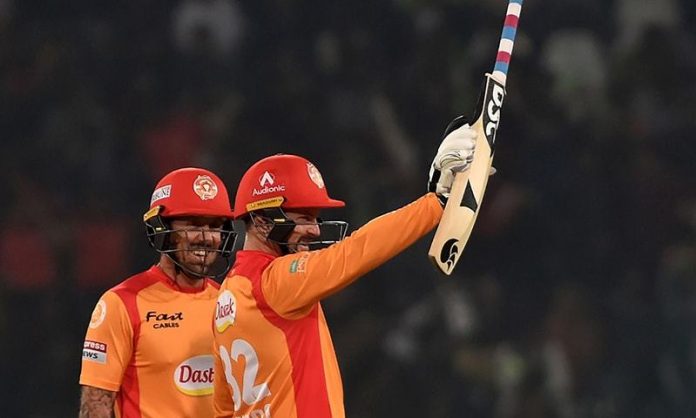 KARACHI: After weeks of uncertainties amid a number of obstacles, the HBL Pakistan Super League (PSL)'s sixth edition is all set to recommence in the sweltering surroundings of Abu Dhabi following a three-month gap when two-time former champions clash with Lahore Qalandars at the Sheikh Zayed Stadium on Wednesday.
When the competition at the National Stadium in Karachi was abruptly suspended over outbreak of coronavirus (Covid-19) cases among a handful of players and a support staff member in early March after completion of 14 fixtures, fears had began to generate whether there would by a conclusive finish to the glitzy franchise-based Twenty20 league.
The Pakistan Cricket Board (PCB)'s attempts for a restart in Karachi from June 1 by outsourcing the bio-secure bubble — that was blatantly breached in the first place — to a foreign company proved premature when the franchises expressed grave concerns over continuing the tournament on home soil and requested the board to shift the event altogether to the United Arab Emirates.
Behind the scenes, the PCB worked feverishly to get the show back on stage despite being confronted by all sorts of stumbling roadblocks on the logistics front with no immediate signs forthcoming on the horizon. It took ages to finally get the green signal from the Abu Dhabi government. The necessary approvals for exemptions ate up considerable time, particularly granting TV production crew members from South Africa and India visas and then undergo a 10-day period in quarantine on arrival.
The players also had to endure endless delays in issuance of visas — former Pakistan captain Sarfaraz Ahmed was among the last few of them who was permitted to land in Abu Dhabi and then go through the mandatory seven-day isolation period at the hotel upon his arrival there via a commercial flight —before boarding charted flights from their respective destinations.
The availability of TV crew was the real bone of contention since it was practically impossible to plan out the schedule date of resumption, which at long last, was announced only last week (June 3). Hence, the prolonged break not only forced changes in the original squads — largely because some overseas players became unavailable either due to international call-ups or participation in the ongoing English season — of all six teams but necessitated tweaks in the playing conditions to overcome the oppressive weather in the UAE at this time of the year.
In the past, Abu Dhabi had hosted just four PSL matches in the fourth edition with three of the matches won by teams batting second when those games were played in the first week of March 2019 at a time when the temperatures remain relatively cool in evening hours. But this time, the players not only have to endure a battle of physical endurance but also overcome mental issues which are common in the realm of bio-secure bubbles.
At start of second leg, four sides — Karachi Kings, Peshawar Zalmi, Islamabad and Lahore Qalandars — have same number of points with Multan Sultans and Quetta Gladiators occupying the remaining two spots.
While addressing the pre-match virtual media conference on Tuesday, Lahore Qalandars skipper Sohail Akhtar remarked the conditions would have some say during the tournament but his team had prepared well since they arrived in Abu Dhabi.
"Obviously it is not easy in the hot weather but being professional cricketers we are used to playing in all types of weather. We have been busy training over the past few days and the guys are getting acclimatised to the weather here," Sohail said. "Having not played in the PSL for several months will not also affect us much because a majority of our players have been taking part at the international level in recent times. We are also wary of the fact that T20 cricket offers equal field for any side but it would be nice to start well against Islamabad United and try not to get complacent because all teams are well-balanced and capable of winning [the title]."
The Qalandars suffered a blow couple of days when their Australian wicket-keeper/batsman Ben Dunk was hit in the face during a practice session. However, Sohail confirmed the injury is not serious enough to prevent him playing tomorrow [Wednesday].
"He [Dunk] is fit and available to play. We have a good balance in our side and the biggest plus point for us that everyone has gelled well in the time we had after arriving in Abu Dhabi. The camaraderie is wonderful and we are keen to get into action."
Karachi Kings captain Imad Wasim said it is a new beginning for every side coming into the Abu Dhabi while saying the conditions are challenging.
"I think it is imperative to start on a winning note [against Multan Sultans on Thursday]. It won't matter much but I view all teams equally strong, although there are changes in the squads," Imad pointed out on Tuesday. "There is no doubt in my mind that conditions will be challenging. We don't yet as to how would the pitch play because it might spin more or the ball starts keeping low here. Another key element is the dew factor.
"No team carries any advantage as such because the conditions will be same for everybody. We'll have to adapt quickly to find the right momentum because this is a new beginning and being on top of the standings has no bearing. The secret to success in T20 cricket is gaining the momentum at the right time," Imad added.
Peshawar Zalmi, who won the title in 2017, against Lahore Qalandars in Thursday's late night fixture, while the 2019 champions Quetta Gladiators take on Islamabad United on Friday.
Schedule (all times PST)
June 9: Islamabad United vs Lahore Qalandars (9:00pm).
June 10: Karachi Kings vs Multan Sultans (6:00pm)
June 10: Lahore Qalandars vs Peshawar Zalmi (11:00pm).
June 11: Islamabad United vs Quetta Gladiators (9:00pm).
June 12: Peshawar Zalmi vs Quetta Gladiators (9:00pm).
June 13: Islamabad United vs Lahore Qalandars (6:00pm).
June 13: Multan Sultans vs Peshawar Zalmi (11:00pm).
June 14: Islamabad United vs Karachi Kings (9:00pm).
June 15: Lahore Qalandars vs Quetta Gladiators (6:00pm).
June 15: Karachi Kings vs Peshawar Zalmi (11:00pm).
June 16: Multan Sultans vs Quetta Gladiators (9:00pm).
June 17: Islamabad United vs Peshawar Zalmi (6:00pm).
June 17: Karachi Kings vs Lahore Qalandars (11:00pm).
June 18: Lahore Qalandars vs Multan Sultans (9:00pm).
June 19: Karachi Kings vs Quetta Gladiators (6:00pm).
June 19: Islamabad United vs Multan Sultans (11:00pm).
June 20: Rest Day.
June 21: Qualifier — Team No.1 vs Team No. 2 (6:00pm).
June 21: Eliminator 1 — Team No.3 vs Team No.4 (11:00pm).
June 22: Eliminator — Qualifier Losers vs Eliminator 1 Winners (9:00pm).
June 23: Rest Day.
June 24: Final (9:00pm).
Standings
(As on March 3, 2021)
(Tabulated under, played, won, lost, tied, no-result, points, net run-rate):
Karachi Kings 5 3 2 0 0 6 +0.697
Peshawar Zalmi 5 3 2 0 0 6 +0.430
Islamabad United 4 3 1 0 0 6 +0.202
Lahore Qalandars 4 3 1 0 0 6 +0.273
Multan Sultans 5 1 4 0 0 2 -0.213
Quetta Gladiators 5 1 4 0 0 2 -0.970