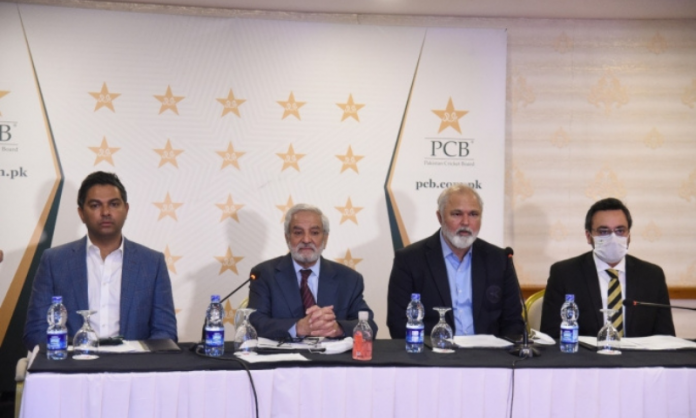 KARACHI: The Pakistan Cricket Board (PCB) has given approval to the eagerly-awaited First Boards of the six cricket associations at its 61st Board of Governors (BoG) meeting while empowering the interim bodies, appointed for one-year term, to carry out functions assigned to respective management committees.
According to the discussions which took place here on Saturday, the BoG also decided that the registration of clubs across the country will start in March with more details to be shared later.
The formation of the First Boards of the associations is in line with Clause 16 of the 2019 PCB Constitution is limited for a 12-month period with its functioning as per mentioned in the Model Constitutions for City Cricket and Cricket Associations, who will manage and run day-to-day affairs, supervising the first registration of cricket clubs under each CCA as per applicable regulations/by laws and monitoring and organising cricket events and activities within its jurisdiction.
"We have been trying for long time how to roll out a proper structure for domestic cricket and the formation of these [six] first boards of cricket associations is a step in the right direction. The people who will run them are high-quality individuals with excellent reputation in their respective fields," PCB chairman Ehsan Mani told a media conference on Sunday.
"Our aim has been to bring in those people who have no political affiliations as such and who are willing to work for the interest of cricket. The first task for each of these interim associations is to appoint their chief executive, head of cricket operations and chief accountant. We will obviously support them but the decision will be theirs and then their structure will start working. The PCB will provide them offices but not at our premises/offices so they function independently.
"Further, each association has around 15 to 18 cities under its jurisdiction. Therefore, some 90-100 coaches will be appointed who will be former cricketers. All these will be done soon but from Match 1 registration of clubs would begin before the process of scrutiny starts.
Nadeem Khan, the director of High Performance Centre, while briefing the media pointed the PCB would be undertaking the registration process online, a facility that will link up.
"We have the tasked the Punjab Informational and Technology to help through their call centres. We'll be advertising the system of registering the clubs through an online procedure as well on social media," Nadeem said.
"We have tried this method with great success on three occasions when we had the under-19 and under-16 trials and also during the Covid-19 pandemic when the PCB initiated the drive to provide financial support for those cricketers and groundstaff in need."Nadeem also made it clear that once the registration process opens, only club presidents will be able to register the club and all details will be shared with the First Board for further verification and scrutiny.
Meanwhile, the PCB media release on Sunday on other issues discussed stated: "The PCB chairman provided a detailed update to the BoG on international matters, domestic and international media rights and the status of agreements with various grounds, while the Chief Executive briefed the BoG on cricket-related matters, including the national teams' performances, High Performance events and the HBL Pakistan Super League 6.
"The BoG appreciated the Pakistan men's national cricket team for their series win against South Africa at the back of a tough series in New Zealand, and congratulated the High Performance department for the successful completion of 220 matches in nine events across various age-group and first-class cricket from Sept 30, 2020 to Feb 23, 2021. This made Pakistan the only cricket playing nation to plan and deliver a complete season during the Covid-19 pandemic."
Following are chairmen and members of First Boards of Cricket Associations:
BALOCHISTAN CRICKET ASSOCIATION: Qaiser Khan Jamali (chairman), Irfan Ahmad Awan, Munawar Khan Tareen, Murad Ismail, Nargis Hameedullah, Shah Dost, Syed Fariduddin, Zafarullah Jadgal (all members).
CENTRAL PUNJAB CRICKET ASSOCIATION: Abdullah Khan Sumbal (chairman), Ali Ahmed Khan, Amir Ilyas Butt, Arshad Ahmad Khan, Atif Naeem Rana, Babar Altaf Butt, Shahrez Abdullah Khan, Mohammad Umar, Sarfraz Ahmed Bajwa (members).
KHYBER PAKHTUNKHWA CRICKET ASSOCIATION: Anwar Zeb Jan (chairman), Aamir Nawab, Abdul Jaleel Khan, Fayyaz Ali Shah, Haris Bilal Afridi, Ikhlaq Ahmed Khan, Kabir Ahmed Khan, Mohammad Javed Afridi, Rozamin Khan, Shahid Khan Shinwari (members).
NORTHERN CRICKET ASSOCIATION: Saleem Asghar Mian (chairman), Abdus Sami, Asif Faridi, Mohammad Ayaz Butt, Nadeem Ahmed Abbasi, retired Col Naushad Ali, Raja M. Zia Ashraf, Tanvir Ahmed (members).
SINDH CRICKET ASSOCIATION: Imran Hussain (chairman), Abdul Raqeeb, Aftab Baloch, Agha Jawaid Ahmed, Hadeel Obaid, Jamil A.Mughal, retired Lt Gen Javed Zia, Syed Farooq Hussain Shah (members).
SOUTHERN PUNJAB CRICKET ASSOCIATION: Mohammad Anees Khawaja (chairman), Ali Khan Tareen, Hassan Hussein Qureshi, Khalid Farooq, Shahid Ahmed Butt, Taimur Altaf Malik (members).