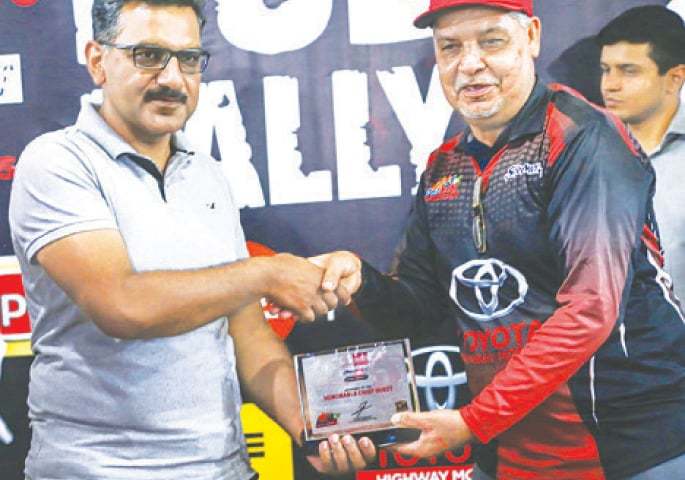 HUB: Brilliant Nadir Magsi and talented Tushna Patel yet again proved their handsome credentials by clinching the respective titles in the eighth edition of Hub Rally which concluded on Sunday.
Veteran rally driver Nadir Magsi, with tremendous experience under his belt, outclassed his rivals to win the rally in record timing of 36 minutes 51 seconds in the prepaired class. He was as usual brilliant on the road and showed why he is considered as the best rally driver in the country with a breathtaking display yet again.
His closest rival, Sahibzada Sultan Muhammad Ali lost to Magsi by a margin of 12 seconds, finishing runner up in 37 minutes and 3 seconds while Noshirwan Twana bagged the the third position with a timing of 39 minutes and 56 seconds.
In the prepared B category, Saud Majeed was the winner while Syed Zaheer Ali and Beverich Mazari topped in the prepared C and D categories respectively.
The newly added motorbikers event was clinched by Raees Moin Khan in style while Umer Khan Rokri finished second and Zaigham Chauhan took the third position.
In the women's category, Tushna Patel defended her title superbly by winning the rally in 42 minutes 9 seconds to prove that she is far and wide the best female rally driver in Pakistan. Her fearless driving on the most difficult of terrains and turns was a treat to watch as she stormed past her rivals to cross the finish line.
Maham Shiraz stood second with a timing of 54 minutes and 7 seconds. Newcomer Nida Wasti was another impressive contestant who drove remarkably well to finish third in 54 minutes and 13 seconds.
In Stock categories, Nawaz Dashti won the Stock A category, Sahibzada Fakhar stood first in Stock B while Major Usman and Shakeel Barchondi won in Stock C & D.
The races were scheduled in nine categories on a three in one 50km track routed from desserts, rocky surfaces and the coastal sight of Gaddani. Another track of 1.5km was specially made for the rally lovers with their families to experience twists and turns in such races.
DG Rangers Sindh Major General Ifthikar Hasan Chaudhry was the chief guest at the prize distribution ceremony. Speaking on the occasion, he said: "By participating in these races we explore the natural beauty of our country and promote tourism as well as competitiveness. Allah Almighty always favours the brave and these healthy activities and lion-hearted people who organize such great sports races deserve high praise indeed."
Chief Organizer of Hub Rally'21 and head of Toyota Highways Shujaat Sherwani later thanked all the racers, crowd, media and the security officials who played an important role to make the rally incident free and highly successful.
In his speech, Shujaat said: "Every year we try to bring innovation to our rally to make it better and our next destination is to invite international rally drivers to our Hub Rally and make it a global event. Foreign drivers coming to Pakistan will not only promote tourism but send a great image to the world about how safe this land is for sports events."
"Hub Rally has become a regular feature and we have plan to build an academy pretty soon where our experienced racers could train amateur male and female drivers."