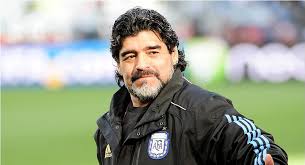 The first time I watched a football match was during the 1994 World Cup. The tournament may have been won by Brazil but it was surrounded by the myth of Maradona. My father would categorically refuse to watch any team other than Argentina play. I even took to marking their games on a calendar. I have vague memories of Maradona scoring against Greece, and then disappearing just as my obsession with the sport was burgeoning. He failed a routine drug test and was banned for 15 months at the age of 34, which essentially meant the end of his career. But my father, my uncles, my elder cousins were all convinced it was a conspiracy to deny him what was rightfully his; the world itself.
Since those childhood days, I have watched many footballing greats announce themselves on the international stage, from the dynamism of the real Ronaldo to the impeccable grace of Zidane to the quiet dominance of Maldini to the outrageous skill of Ronaldinho to the emergence of Messi and his Portuguese rival; but I have never seen anyone command such a fanatical devotion as Maradona. The greats of today seem robotic, by comparison. They train, they score, they sign endorsements and they go home to their manicured lawns. They do not manifest worship.
My family of casual football fans tuned in to the sport every four years and was enamoured with this Argentinian with a stocky build and an unruly mop of hair. In 1990, he had reached the final but narrowly lost; in 1986, he had clinched the trophy almost on his own; in 1994, he might as well have called the tournament off when FIFA threw him out of it. Something that prompted protestations all over the world, even in India, even in Bangladesh and even in conversations in the small city of Jhelum that is my ancestral home.
In our village next to the river people thought of two otherwise separate nouns as being the same thing. Football meant Maradona.
This was a Pakistan where hockey was still the most popular sport. A sport that had the offside rule at the time, and a kinship with truly global sports. My people from Jhelum who were also migrants in Lahore and Faisalabad, would patiently sit beside the radio listening to Pakistan's field hockey exploits and our own triumphs. Then, channeling the same zeal, they would find someone with a television set to watch Argentina play.
It was his cult of personality. He was exactly like Muhammad Ali, the boxer — in that his myth far exceeded the confines of his profession. People who had never watched a boxing match knew who Muhammad Ali was. People who had never kicked a football knew what Maradona could do with one.
They also knew the things he was called. A rebel, a riot, a legend, a cheat, a loose cannon, a braggart, a loud mouth, a drug addict; he was many different things to many different people. But he inveigled special attention from all of them. Even after his playing days were over his tabloid days weren't. A generation of Pakistanis religiously followed the headlines even if they had no interest in football itself. Unlike cricket, this was not the gentleman's game, and Maradona was no gentleman.
There were other legends who had his prodigious skills with the ball, Pelé, Platini, Cruyff. But the career trajectories of those other maestros took an entirely different course. Like Maradona's slums of Buenos Aires, Pelé also came from the impoverished parts of Sao Paulo; but he courted the first world, the global north, for which he soon became the face of advertisements and brand ambassadorships. He took up polite causes and award ceremonies, passing around commemorations on behalf of football's governing body.
But unlike that sort of a bureaucratic role model, Maradona was more Chavez or a Castro. He had a tattoo of Che Guevara, he had shirts that called American statesmen war criminals. He had an unpublishable opinion on everything.
This is what was so appealing about him. People didn't need to know what hegemon he was standing up to, just that he was. He had that look about him. That impudence. The effortless demeanour of someone who did not care what was printed in tomorrow's press.
This was all before our bourgeois fascination with televised club football, before the export of the English Premier League. Wealth and class disparities in club football required more nuance to process and narrate. But everyone understood the World Cup. Everyone understood war and politics. Everyone knew the Falklands weren't just contested on the battlefields, they were contested in stadiums too.
People appreciated the stories; of when he dribbled past the entire population of England to score in '86 and when he described a goal in the same game as la mano de dios (the hand of god); when he moved to Europe and The Butcher of Bilbao tried hacking his legs into several pieces as a welcome to the north of Spain; when two years after that, he ended his Barcelona career with a 22-man brawl at the end of their rematch; of when he put Naples back on the Italian map.
The stories were never-ending.
A decade later, as Argentina's manager during the qualification for the 2010 World Cup, I remember watching Maradona sliding away on his belly in the rain soaked grass, after his team put in an 89th minute winner against Peru. Middle aged, overweight and unfit by now, he had no reason to do that, whatsoever; which is precisely why he did.
A decade after that, at the Russian World Cup, I remember him falling asleep during a game while sitting in a special enclosure for spectators. He was poked awake after ending up being filmed, following which he addressed the cameras with a middle finger as Argentina scored.
That, in essence, is who he was. Someone who lived life on his own terms.
I remember when someone on the school playground tried anything audacious, anything beyond their means, something that had no chance of working out, we would say 'he thinks he's Maradona'. We weren't even sure what about Maradona translated to cockiness and conceit, we just knew that the taunt was potent.
There's little point eulogising some of his more problematic behaviours; he also ended the 2018 World Cup making a 'slant eyed' gesture to a Korean spectator, something he was made to usher an apology for — he was not sober for a large part of the tournament, if not his life — but his name maintains a great cultural and colloquial value the world over.
He's a name that isn't dying anytime soon.