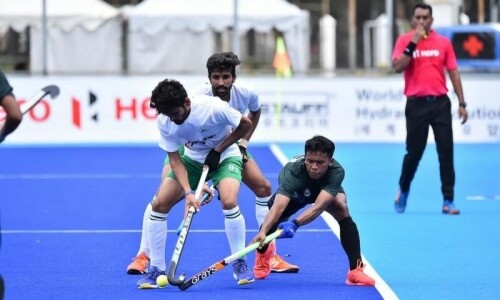 LAHORE: In an unfortunate incident, officials of Pakistan Navy allegedly adopted an inappropriate behaviour with the probables and coaches of the national junior hockey team during a training camp for the Asia Cup here at the DHA Hockey Stadium.
The incident has been reported through a written complaint by goalkeeping coach Mazhar Abbas and drag-flick coach Rana Zubair.
As per the complaint, the Navy officials concerned arrived at the stadium on Monday at 5pm to take away midfield player Sufyan Khan, who is also a Navy employee.
Mazhar and Zubair have alleged that the Navy officials behaved rudely with the coaches and players while looking for Sufyan. They also claimed that while around 50 probable players at the camp were lined up by the said Navy officials, a coach was detained in their jeep for about half an hour.
The camp officials have mentioned in their complaint that Sufyan was not present at the camp when the Navy team arrived as it was a rest day. They have further explained that Sufyan was attending the camp after being relieved of his duties from Navy, which he had shown to the Navy officials.
However, the Navy officials claimed that the letter to discharge Sufyan had been cancelled.
The officials of the camp have requested the Pakistan Hockey Federation to investigate the incident and take appropriate action, emphasising the camp players had been disturbed by the humiliating incident.
When contacted, PHF secretary Haider Hussain confirmed that he had received the complaint but refused to comment further.