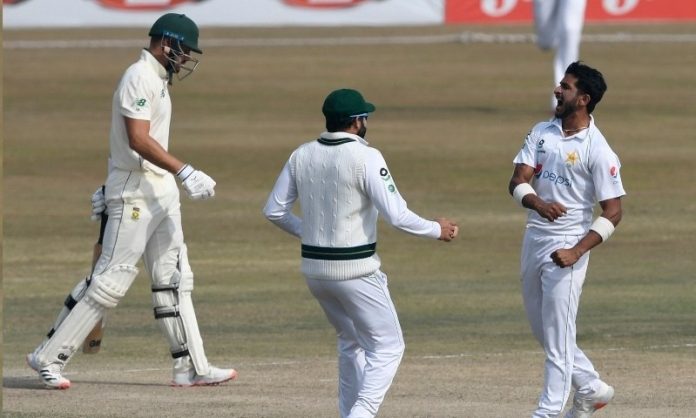 LAHORE: Former Pakistan skipper Intikhab Alam and ex Pakistan Cricket Board Chairman Khalid Mahmood on Monday lauded the Pakistan team for its fine performance in defeating South Africa 2-0 in the Test series.
"No doubt credit must be given to Pakistan and there are some excellent individual performances of batsmen Fawad Alam, Mohammad Rizwan and pacer Hasan Ali, which made such a fantastic victory," Intikhab said while talking to Dawn. "Hasan made a brilliant come back after remaining out of cricket for many months and it was not easy to perform in such a way and that too against one of the strongest sides of the world," said the former captain.
Intikhab said though the top order failed to click, the middle and late order batsmen played superbly at crucial stages, especially Fawad, Rizwan, and Faheem. "Overall the South African team could not adjust it with the local conditions and it lacked a world-class spinner, which had always been playing a vital role in Asian conditions," observed Intikhab. "Their skipper Quinton de Kock looked also looked under pressure could noot lead from the front from the front at any stage.
Intikhab, however, lamented tht Pakistan could not qualify for the finals of the World Test Championship due to successive defeats against Australia, England and New Zealand. "That has reflected poorly on the team managements and the players who could prepare solidly and failed to impress on overseas tours," he said.
Ex-PCB chairman Khalid Mahmood also hailed the performance of the Pakistan team on Monday. Talking to Dawn said that the victory was the result of the team effort as the bowlers and batsman delivered at the crucial stages and the visitors could not maintain their past reputation of tough fighters in the series. Khalid praised Hasan, Fawad and Rizwan as well as captain Babar Azam for putting up splendid show in the two-Test series.
However, Khalid warned the team management that winning abroad on sporting, grassy tracks remained a big challenge for the team. "It was India who always flopped badly in away tours and won only at home ground. But now, they are doing great on away tours while Pakistan have failed in Australia, New Zealand and England which was not the case before," said Khalid.