India vs England 2022, 5th Test: Advantage India as Cheteshwar Pujara, Rishbah Pant consolidate after England's fightback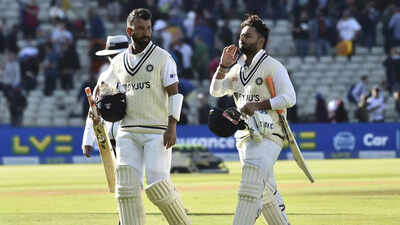 Indian batters Cheteshwar Pujara, left, and Rishabh Pant at close of play on day three (AP Photo)
They say Day Three of any Test is a moving day. Particularly so in England, especially if you have two proactive teams like India and England involved. Two teams who are willing to take the game forward with positive play. And Day Three at Edgbaston on Sunday, did prove to be a moving day.
England, who had started proceedings at 84 for five, were bowled out for 284, giving India a sizeable lead of 132, despite a counter-attacking hundred for the ages by England's man in form, 
Jonny Bairstow
 (106, 140 balls, 14×4, 2×6).
Advantage India, many felt.
But under skipper Ben Stokes and coach Brendon McCullum, this England team knows how to fight. They prized out the scalps of Shubman Gill and Hanuma Vihari and more importantly Virat Kohli, caught off a rebound in the slips by Joe Root off a beauty from Stokes that bounced and seamed off a length.
It was the second change of ball out of three that did the trick for Stokes and England as Kohli and 
Cheteshwar Pujara
 were looking totally untroubled and Kohli, with a couple of gorgeous cover drives, looked in the mood. The ball change seemed to help the bowlers get more bounce and movement that triggered Kohli's fall.
But after Kohli's departure Pujara (50*, 139 balls, 5×4) and Rishabh Pant (30*, 46 balls, 4×4) eased the nerves with a 50-run stand to take India to 125 for 3, a lead of 257 with seven wickets left.
Kohli was in the thick of action when England batted too.
"A bit quicker than Southee, eh?" he taunted from slip as Mohammed Shami got another one to zip past Bairstow's bat. Kohli's barb was because Bairstow had pulverized Tim Southee and Trent Boult in the series against New Zealand, scoring blazing hundreds at Trent Bridge and Headingley.
The bowling wasn't just a bit quicker, but India's bowlers led by Jasprit Bumrah, Shami, Mohammed Siraj and Shardul Thakur also had a little more skill and variety.
Bairstow has scored five hundreds this season. The last three have come in consecutive Tests. And the 106 he scored on Sunday, was probably the best of the lot as it came when his side was in trouble and against a bowling attack that asked him searching questions.
Bairstow has enjoyed the freedom given to him by Stokes and McCullum. But it was an innings of two halves.
His first 16 runs came off 65 balls as he chose to focus on tight defence and survival as the Dukes ball swung and seamed and Bumrah and Shami had their tails up.
Attack without being reckless was the mode he soon switched to as he gave an exhibition of hitting through the line and pulling the short ball.
In partner and skipper Stokes, he found a batsman with a similar mindset. The talismanic allrounder lived a charmed life during his knock of 25 as he was dropped twice, once on 18 by Shardul Thakur at cover who floored a skier.
Seven runs later, skipper Bumrah at mid-off grassed a low chance off Thakur. However, Stokes took one chance too many as a hard off-drive was pouched by a flying Bumrah next ball. Bairstow though responded by pulling Siraj into the stands twice.