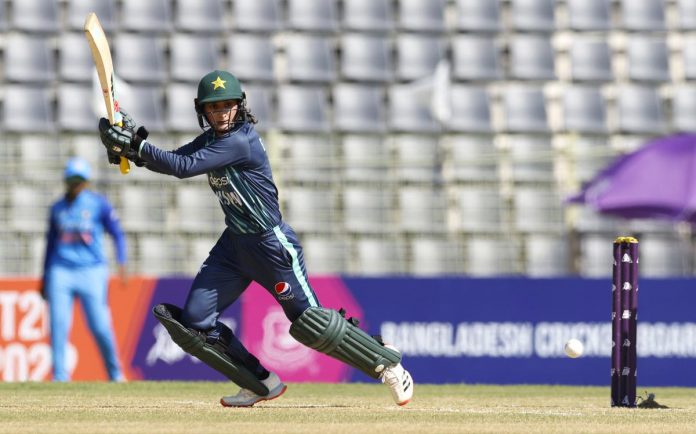 INDW vs PAKW Asia Cup 2022: Get the Live Cricket Score, Latest Scorecard, Commentary, Updates and Highlights from the India Women vs Pakistan Women Match 13 of Women's Asia Cup 2022.
India Women will take on Pakistan Women in the Asia Cup 2022 on Friday. | Photo Credit: SPORTSTAR
Hello and welcome to Sportstar's LIVE coverage of the India Women vs Pakistan Women Women's Asia Cup 2022 match at the Sylhet International Cricket Stadium.
Result: Pakistan beats India by 13 runs
PAKW 137/6 (20); INDW 124 (19.4)
Pakistan Women came up with a spirited show with both bat and ball as India faltered in chase of 138. Nida Dar starred with an unbeaten 56 off just 37 balls to take Pakistan to a competitive total and in reply, Sabbhineni Meghana and Smriti Mandhana gave India a fine start, only to falter as the innings progressed. Skipper Harmanpreet Kaur came in as late as in No.7 and the likes of Jemimah Rodrigues and Smriti Mandhana failed to get going. Deepti Sharma picked three wickets and then hit an 11-ball 16 but it was Richa Ghosh who breathed life into the chase with a 13-ball 26 studded with three sixes and a boundary at the fag end of the innings. However, her fall helped Pakistan tighten things and eventually bowl out India for 124 in 19.4 overs.
INDW 110/8 after 18 overs: This is brave batting from Richa Ghosh as she walks out to bat after suffering a sunstroke and has smoked back-to-back sixes to keep India still in the hunt. Meanwhile, Radha Yadav returns back to the hut as India lose their eighth wicket.
INDW 91/6 after 16 overs: Deepti Sharma falls and the Indian management will discuss about this run chase. The running between the wickets has been questionable and Harmanpreet dropping down the order despite wickets falling, things didn't look good in the dugout. Meanwhile, Pakistan is en route to register a famous win.
INDW 77/5 after 14 overs: Top stuff from Pakistan and they have squeezed the life out of the run chase with a quick flurry of wickets. The Indian skipper is finally out in the middle but this will be a herculean task as India needs 61 runs in 36 deliveries.
INDW 65/4 after 12 overs: The Indians are collapsing under sheer pressure and a horrible mix-up packs off Pooja Vastrakar. There was absolutely no need for the run and the lack of communication gets Pakistan another wicket. Surprisingly, the Indian skipper is still there in the sheds as Deepti Sharma walks in.
INDW 50/3 after 10 overs: Smriti Mandhana falls under pressure and despite looking so good, the opener has thrown it away. She was handed a life as a missed stumping saw the India opener extend her stay at the crease only to hole it out at long-on. Skips down the track tries to go for a maximum with the required rate constantly climbing up but fails to clear Aiman Anwer, who takes an excellent catch. Pooja Vastrakar walks in to join Dayalan Hemalatha.
INDW 40/2 after 8 overs: The required rate has climbed up to 8.18 while the current rate is just over 4.6 rpo and both Smriti and Hemalatha are under pressure. Jemimah isn't happy in the dugout but that was a brain fade moment. Nida Dar has picked a wicket and along with Aiman Anwer has tightened the screws. India needs a partnership and then a late flourish to stay unbeaten in this competition. India women need 98 runs in 72 balls. 
INDW 30/2 after 6 overs: Pakistan strike and Jemimah Rodrigues failed to capitalise on the two lives she was gifted and that's reckless from Rodrigues. She literally threw her wicket away and India in a bit of trouble having lost two inside the PowerPlay. Smriti is striking the ball well but she needs a partner who can hold one end and resurrect the run chase. Dayalan Hemalata comes out to the middle.
INDW 28/1 after 4 overs:WICKET – Nashra Sandhu strikes and she dismisses Sabbhineni Meghana, who falls for an ambitious shot. Makes room but fails to clear the inner circle to give Pakistan an early breakthrough inside the PowerPlay. Jemimah Rodrigues joins Smriti Mandhana
INDW 15/0 after 2 overs: Sabbhineni Meghana and Smriti Mandhana are off the mark and it's an interesting strategy from Pakistan as it's spinners Sadia Iqbal and Nida Dar operating from both ends. Meghana welcomed Dar with a beautiful six straight down the ground to get the Indian chase up and running. Meanwhile, Smriti exhibits her class with an inside-out shot through the extra cover region.
Sabbhineni Meghana and Smriti Mandhana are out in the middle and it will be Sadia Iqbal who will start the proceedings with the new ball. Here we go!
End of Innings: PAK-W 137/6 in 20 overs: Deepti Sharma stars with a three-wicket haul and India recovered well after the assault from Nida Dar who hammered an unbeaten 56 off 37 balls. India pulled back in the last five overs giving just 31 runs in what looked like a score of 150 plus, the way Nida and Bisma were batting. A good batting wicket is what Dar reckons and India will pin their hopes on their openers to give a good start. India Women chase 138 runs in 20 overs at 6.85 RPO to continue their unbeaten run in the tournament. Back for the chase in a bit.
Pak-W 117/4 after 17 overs: Excellent half-0century from Nida Dar as he gets to her half-century in just 30 deliveries and her knock is studded with five boundaries and a six at a strike rate of 166.67. Renuka Singh dismissed Maroof for a well-made 32-ball 35 but the damage was done. India needs to either pick wickets or halt the run flow.
PAK-W 107/3 after 15 overs: This is stunning from Nida Dar and she is dealing in boundaries with Bismah Maroof playing the role of a second fiddle. The 100 is up for Pakistan in the 15th over with the partnership soaring to 74 off just 54 deliveries. India needs a breakthrough as the stage is set for Pakistan for the late kick. In the last five overs, Pakistan Women have got 46 runs without losing a wicket and that sums up the lack of teeth in the Indian bowling attack. It's hot and humid and the ball is nicely sitting up, asking to be hit and Dar has been ruthless.
PAK-W 89/3 after 13 overs: Nida Dar takes the attack to the Indian camp as she dismantles Dayalan Hemalatha and loots 15 valuable runs. She first skips down the track to smack Hemalatha for a boundary to the mid-wicket and then hammers her down the ground to end the over in Pakistan's favour. With the current run rate of 6.58, Pakistan Women are poised to pose a daunting total on board. Meanwhile, India wicket-keeper Richa Ghosh appears to have suffered a sunstroke and is going off the field. Shafali Verma has donned the wicket-keeping gloves.
PAK-W 64/3 after 11 overs: Bismah Maroof and Nida Dar have rebuilt the innings and most importantly have negated the double strike from Deepti. The current run rate is hovering around 6rpo and India needs wickets to stem the run flow. Despite losing wickets, Pakistan's scoring rate hasn't got affected. Pooja Vastrakar is back in the attack and it will be an interesting passage of play.
PAK-W 53/3 after 9 overs: Rajeshwari Gayakwad had Bismah Mahroof plumb but the umpire thought otherwise. She is very lucky to extend her stay at the wicket as the ball hit her low on the front foot and it was crashing the middle stump. Strange call but Pakistan will be happy. The fifty is up for Pakistan as Mahroof and Nida Dar aim to rebuild.
PAK-W 33/3 after 6 overs: Double-Wicket – Deepti Sharma has put India on top with a double strike as she removed Muneeba Ali and Omaima Sohail in one over to leave Pakistan reeling at 33/3 in the PowerPlay. While Ali skipped down the track, trying to whack the off-spinner out of the park, she completely missed the ball as the wicketkeeper knocked off the bails. Omaima then went for a sweep, only to miss the ball and it was plumb.
PAK-W 28/1 after 5 overs: WICKET – The introduction of Pooja Vastrakar saw the medium pacer strike immediately as she removed Ameen who was caught behind by Richa Ghosh. Ameen made room to cut a delivery that was pitched outside the off much ended to nicking it to the wicket-keeper. A much-needed breakthrough for India Women as Ameen was looking in good touch.
PAK-W 25/0 after 4 overs: Muneeba and Sidra have given Pakistan a good start and Deepti is searching for some sort of turn. She is slower through the air but the length has been an issue as she is a tad short, giving the batswomen enough width to cut. The reverse sweeps are also out. Important for India to make a breakthrough.
PAK-W 10/0 after 2 overs: Interesting strategy from India as Harmanpreet goes with pace and spin with Renuka Singh and Deepti Sharma operating from the two ends. Renuka did beat Ameen with a ball that jagged away. Both the Pakistan openers are off the mark as India aims an early breakthrough.
We are all set for the match to begin and it will be Sidra Amin along with Muneeba Ali who will start proceedings for Pakistan and it will be Renuka Singh with the new ball. Here we go
India Women are on top of the table and have won all three matches, while Pakistan has lost one and is second on the points table.
Match to start at 1:00 PM
India Women Playing XI: Smriti Mandhana, Sabbhineni Meghana, Jemimah Rodrigues, Harmanpreet Kaur(c), Dayalan Hemalatha, Richa Ghosh(w), Deepti Sharma, Pooja Vastrakar, Radha Yadav, Renuka Singh, Rajeshwari Gayakwad
Pakistan Women Playing XI: Muneeba Ali(w), Sidra Ameen, Bismah Maroof(c), Nida Dar, Ayesha Naseem, Aliya Riaz, Omaima Sohail, Aiman Anwer, Sadia Iqbal, Tuba Hassan, Nashra Sandhu
Right then the players are in the ground with the Indian team in a huddle. The toss should be anytime soon.
While an India-Pakistan tie always generates hype, the recent two matches between the two sides failed to produce a close game with India winning comfortably.
India was at its ruthless best as it brushed aside Pakistan at the Commonwealth Games in July.
The two sides currently occupy the top two spots in the points table with India, who have won three games on the trot, leading the table.
As we build up for the game, the toss will take place at 12:30 PM and this promises to be a cracker of a contest. The form of Shafali Verma is a matter of concern and the opener will aim to come out all guns blazing.
The Indian team gave ample game time to its fringe players, making as many as eight changes in the last two games, but against Pakistan — one of the title contenders — the Harmanpreet Kaur-led side is expected to have full strength team on the field.
It's the biggest battle in the tournament and nothing can get better than an India-Pakistan encounter.
Live Streaming Info
When is India vs Pakistan Women's Asia Cup T20 2022 match?
The India vs Pakistan Women's Asia Cup T20 2022 match will be played on Friday, October 7.
How and where to watch the live streaming of the India vs Pakistan Women's Asia Cup T20 2022?
The India vs Pakistan Women's Asia Cup T20 2022 will be streamed live on the Disney+ Hotstar app.
Which channel will telecast India vs Pakistan Women's Asia Cup T20 2022?
The India vs Pakistan Women's Asia Cup t20 2022 will be telecast live on the Star Sports Network in India.
Where will India vs Pakistan Women's Asia Cup T20 2022 will be played?
The India vs Pakistan Women's Asia Cup 2022 match will be played at the Sylhet International Cricket Stadium in Sylhet.
What time will the India vs Pakistan Women's Asia Cup T20 2022 will begin?
The India vs Pakistan Women's Asia Cup T20 2022 will start at 1 pm IST, on October 7.
What time will the toss between India vs Pakistan Women's Asia Cup T20 2022 take place?
The toss between India vs Pakistan Women's Asia Cup T20 2022 will happen at 12:30 PM IST on October 7.
What is India Women's Probable Playing XI for the Women's Asia Cup T20 2022?
IND-W Predicted Playing XI: Smriti Mandhana, Shafali Verma, Jemimah Rodrigues, Dayalan Hemalatha, Harmanpreet Kaur (C), Pooja Vastrakar, Deepti Sharma, Richa Ghosh (WK), Renuka Thakur, Radha Yadav, Sneh Rana
What is Pakistan Women's Probable Playing XI for the Women's Asia Cup T20 2022?
PAK-W Predicted Playing XI: Muneeba Ali (WK), Sidra Ameen, Bismah Maroof (C), Nida Dar, Ayesha Naseem, Aliya Riaz, Omaima Sohail, Kainat Imtiaz, Diana Baig, Tuba Hassan, Nashra Sandhu
What are the squads for India vs Pakistan Women's T20 Asia Cup 2022?
India Women Squad: Shafali Verma, Smriti Mandhana, Sabbhineni Meghana, Richa Ghosh(w), Jemimah Rodrigues, Harmanpreet Kaur(c), Dayalan Hemalatha, Deepti Sharma, Pooja Vastrakar, Sneh Rana, Renuka Singh, Kiran Navgire, Radha Yadav, Meghna Singh, Rajeshwari Gayakwad
Pakistan Women Squad: Muneeba Ali(w), Sidra Ameen, Bismah Maroof(c), Nida Dar, Ayesha Naseem, Aliya Riaz, Omaima Sohail, Kainat Imtiaz, Diana Baig, Tuba Hassan, Nashra Sandhu, Sidra Nawaz, Aiman Anwer, Sadia Iqbal, Sadaf Shamas