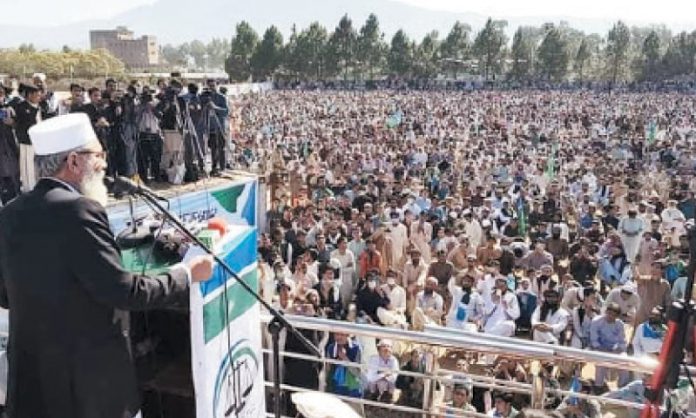 Addressing a big pubic meeting in Bajaur Sports Complex here to launch his party's countrywide anti-government protest movement, the JI chief alleged that wrong polices of the present government had virtually turned Pakistan into a failed state.
He said that Imran had made tall claims of positive changes in the country on the pattern of Riasat-i-Madina (the State of Madina) when he assumed power. However, he said the PTI government totally failed to fulfil even a single promise its leader had made with the nation.
Mr Haq said the government had not only put the country into the worst financial crisis, but also damaged almost all public organisations and institutions owing to its incompetence.
He alleged that the government's bad economic policies had rendered millions of people jobless in the country. He said the current financial instability, record inflation, lawlessness and unemployment had exposed the real face and anti-people agenda of the PTI government.
The JI leader claimed that most of people, including 'selectors' and strong supporters of PTI, were now disappointed at the incompetence of the government.
He described the PM's ongoing anti-corruption narrative a serious and shameful joke with people and said a prime minister whose most cabinet members were corrupt would never take practical action against the corrupt elements in the country.
He alleged that most of the federal ministers, PM's assistants and advisers were heads of corrupt mafia who had also been involved in the wheat and sugar crisis. However, he asked Imran Khan to take start from his cabinet members if he was really interested in curbing corruption from the country.
The JI chief blamed the government for damaging the image of country's institutions and said PTI had no moral authority to rule the country.
He slammed the government for not allocating 3 per cent share in the NFC awards to the tribal districts as per the 25th constitutional amendment bill passed in 2018.
He said the JI's anti-government movement was meant to force the rulers to address the core problems of the people or to compel them to leave the government instantly. He said their movement would continue till their target was achieved. He said that such protest meetings would be held across the country.
About Pakistan Democratic Movement, Mr Haq said most of the PDM parties were corrupt and his party would never participate in such an alliance.
JI provincial chief Senator Mushtaq Ahmad Khan and other leaders also addressed the gathering, which was also attended by workers from Dir and Mohmand districts.