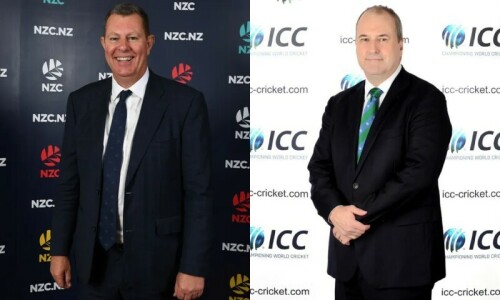 LAHORE: Interna­tional Cricket Council (ICC) chairman Greg Barclay and chief executive Geoff Allardice's two-day visit to Pakistan ended on Thursday with the officials being "impressed" by the progress of the sport in the country.
The top officials were here since Wednesday morning and conducting meetings with the Pakistan Cricket Board's top officials including the body's interim Management Committee chairman Najam Sethi.
The visit took place amid the ongoing deadlock between the PCB and the Board of Control for Cricket in India over the upcoming Asia Cup and the World Cup.
While sources have claimed discussions over the matter were held between the PCB and the ICC officials, both bodies have refrained from speaking about it at an official level.
"During the pre-arranged two-day visit, Mr Barclay and Mr Allardice met with the Chair of the PCB Management Committee, Mr Najam Sethi, and other PCB officials, and discussed wide-ranging matters of mutual interest around cricket, including promotion, growth and development," a PCB statement read.
All Barclay opened up about was how he and Allardice saw Pakistan's progress in the sport in the past few years, especially after full-fledged cricket returned to the country.
"My approach has been to visit all the Member countries and see how cricket and cricket administration operates in their respective jurisdiction as every country and Member is different in terms of size, scale, economy and where they might sit in the cricketing hierarchy," the ICC president was quoted as saying in the press release.
"The cricket facilities in Pakistan and the cricket programmes are great and now, that international cricket has returned to Pakistan and the PCB is able to successfully deliver bilateral arrangements at home, I think we'll see Pakistan cricket reach another level for both men and women, and that will also have a positive impact in terms of commercial upside.
"From the ICC's view, given that we have a strategy to grow the game globally, to see where the PCB fits in is also very pleasing. I am going to leave here well impressed with what I have seen."
Sethi however, thanked Barclay and and Allardice for making the visit.
"The PCB looks forward to continuing our discussions and working closely with the ICC to put together global strategies and plans that are not only in the best interest of all its Members but also achieve the common objective of growing and developing the game by attracting new audiences," said the PCB chief.