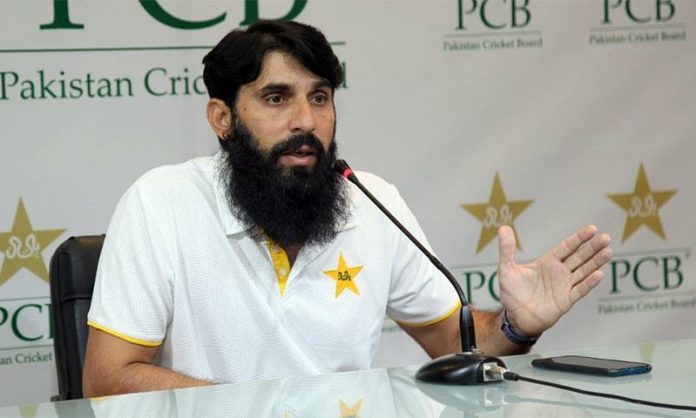 LAHORE: Pakistan head coach Misbah-ul-Haq, though delighted at the first overseas victory under his coaching in South Africa, on Thursday said the main area remains the struggling middle-order of the team in the white-ball formats.
"It is a great delight for everyone, especially for Pakistan cricket, that we have won an away series in tough conditions of South Africa, and that too at the venues of Centurion and Johannesburg where the conditions suits the home team," said Misbah during a virtual press conference.
"Overall, I am satisfied with the performance of the team, its captain Babar and especially from the top order, having Fakhar Zaman, Babar and Imam-ul-Haq there. But we need runs from our middle and lower middle order to set a match-winning target of around 350," emphasised Misbah.
He said in modern day cricket, if any team wanted to win, it had to score 200 in T20 matches and around 350 in One-dayers.
Misbah said the batsmen who preferred to play cricketing shots could achieve these totals more comfortably. "We also have to bring improvement in our spin bowling department and of course in batting and bowling as we have to play two World Cups in India. Our batsmen have to bring improvement in facing the spin bowling attack, while our spinners have to bowl more effectively on Indian soil," he further said.
Misbah was all praise for captain Babar Azam and said: "Babar is leading from the front as captain and as batsman, too, and that is a good sign for Pakistan. The series win over South Africa will further increase his confidence."
He said the next two series against England and the West Indies were also of very important nature and Pakistan will have to play those series after overcoming all the weaknesses.
To a question, Misbah said, Sarfraz Ahmad was given a chance in the crucial match just to make the middle-order stronger and since the former captain did not have any experience of playing as a fielder, he was given the role of wicketkeeper in place of first choice keeper Mohammad Rizwan who has played some international matches as fielder.
Misbah said he was also expecting South Africa would include more spinners in the T20 series, so in the middle-order an experienced batsman like Sarfraz Ahmad would be very suitable to tackle the slow bowlers.
He further said though five key players of South Africa did not play the third ODI match, their replacements were very good players, having 40 plus averages "The Proteas were still a strong outfit without their five players, so the victory against them was a worthy one," remarked Misbah.
To a question, Misbah said the victory against South Africa will not make Pakistan relax in any way. 'Our main target is to bring the Pakistan team among top three sides of the world in all the three formats," he said.
Misbah added that though Pakistan have good choices in top order in T20 cricket with Babar Azam, Fakhar Zaman, Sharjeel Khan and Rizwan, the middle-order needs quality batsmen but he would not announce the opening pair for the T20 series against South Africa just yet as it would be premature.
Misbah also praised opener Fakhar Zaman who hit back-to-back centuries to earn a lot of applause from all the quarters. "Fakhar staged a fine comeback and is in great form now, so he is also included in the T20 format.
"Fakhar has his own batting techniques. His way of lifting the bat, grip on the bat are unique and it is effective too. Furthermore, whenever Fakhar excels with the bat his performance has a big impact on the innings as it did in the ICC Champions Trophy in 2017 and here in South Africa," he observed.
He said Pakistan should back the players like Fakhar whenever they are going through a bad patch.
He also praised the performances of all-rounder Faheem Ashraf, Usman Qadir and Mohammad Nawaz. "They are all very improved players. Though youngsters, who played in the middle-order like Danish Aziz, could not excel on this tough tour of South Africa, no one would be written-off as everyone would get a chance according to the need of the team."