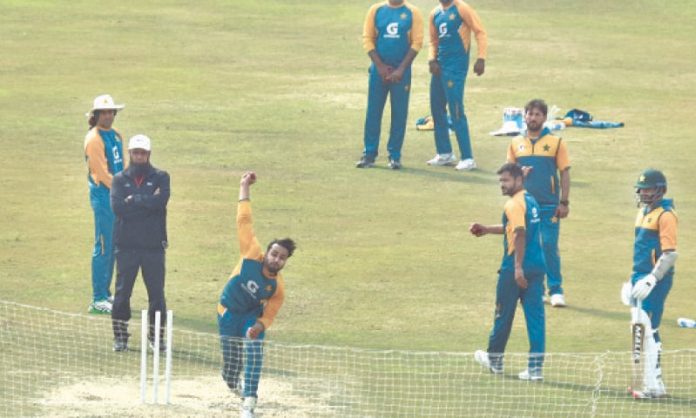 RAWALPINDI: While Fawad Alam, Yasir Shah and Nauman Ali shared the lead roles during Pakistan's seven-wicket triumph in the first Test against South Africa at Karachi, Faheem Ashraf continued to enhance his growth as a cricketer on the international stage.
Faheem, who considers himself a bowling all-rounder, was the major contributor with a feisty 64 off 84 balls in that game-defining partnership of 102 with Fawad — the undisputed man-of-the-match for his fine innings of 109 — after Pakistan had slumped to 176-6 on the second day while responding to South Africa's first-innings total of 220 at the National Stadium.
Thanks to the exploits of Fawad and Faheem, Pakistan secured a cushion of 178, the pressure of which was too hot for the tourists to handle as they crumbled against the spinning duo of Nauman and Yasir. Faheem's bowling chores were restricted to just 14 overs for 20 runs — including astounding analysis of 9-6-8-0 — across both innings during the match which ended on the fourth afternoon.
During the virtual media conference following the home team's practice session at the Pindi Cricket Stadium on Tuesday, Faheem reckoned the contrasting environment in the garrison town may force a rethink in Pakistan's overall game plan.
Unlike the Karachi wicket — on which Nauman and Yasir reaped rich hauls by sharing 14 of the 18 wickets claimed by bowlers, the track here seems more incline to aid the quick bowlers.
"This [weather] certainly is quite different and could lead to spinners being less threatening than was the scenario during the opening Test [of the two-match series]. We've been training here since Monday and everyone is in good rhythm and raring to go," Faheem said. "The momentum is with Pakistan. But we are also well aware that South Africa relishes the atmosphere where seamers come into play more prominently than in dry conditions.
"Over the past two season, the Pindi wicket is not like we used to play during the domestic tournament when we generally found them much grassy. The pitch for this Test appears to be ideal for both batting and bowling at this point in time. Traditionally, it [pitch] is hard and unlikely to break up in this cool weather. In fact, it was a bit warm on Monday out there in the ground but today [Tuesday] we were able to enjoy the training sessions and the feel was good whether we were batting or bowling."
Faheem, who has made 47 first-class appearances since October 2013, further dispelled the impression that he has been predominantly a white-ball player. "Statistics can sometimes be misleading. No doubt that I had enjoy success in white-ball cricket but if one looks at domestic stats then they portray a different picture, in my early seasons I figured in more red-ball cricket than people think." The soft-spoken Faheem, who has played seven Tests, 28 One-day Internationals and 35 Twenty20 Internationals, attributed the improvement in his overall game to sheer hard work and focus. "Nobody can expect to achieve overnight success. Behind the scenes the hard work put in, day in and day out, translates into performance and performance into a habit where consistency comes in."
After his debut knock of 83 at Dublin in Ireland's inaugural Test in May 2018, Faheem had struggled for runs with just 55 runs and two ducks in his next five innings. It was an irony that he was missing from the national side for almost two years despite grabbing three wickets in both South Africa innings at the Wanderers in January 2019.
But the 27-year-old from Kasur, who bowls right-arm seamers but bats left-handed, has enjoyed a purple patch with the willow since his comeback, top-scoring with a career-high 91 in the first innings of the Mount Maunganui Test, 19 in the second, and contributing 48 and 28 at Christchurch.
However, the disconcerting aspect for Faheem is the lack wickets in recent Tests as illustrated by only three in seaming conditions of New Zealand.
"That's something I'm trying to work out. Obviously the conditions in Karachi favoured the spinners but it was disappointing from my point of view that I didn't have much success against New Zealand. The efforts on my part have always been there. Every time I go out, my desire is to be a bowling all-rounder," Faheem concluded.