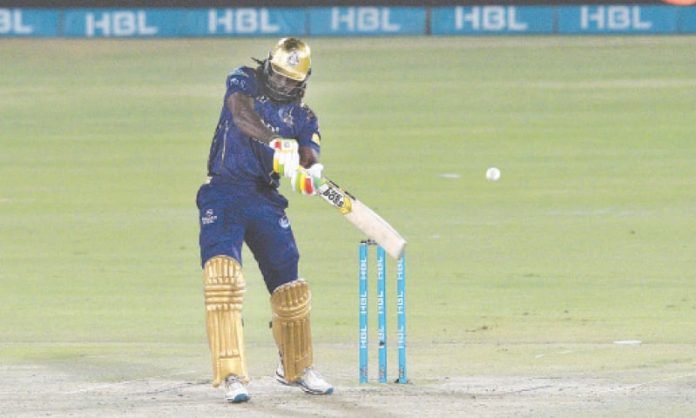 KARACHI: Chris Gayle's parting words before he headed home a brief period for West Indies' upcoming Twenty20 International series against Sri Lanka were that he had enjoyed coming to Pakistan after 15 years.
The Universe Boss — as Gayle is known — top-scored for Quetta Gladiators in both their HBL Pakistan Super League 6 matches but his runs didn't matter as the Sarfaraz Ahmed-led team capitulated to humiliating defeats against holders Karachi Kings and Lahore Qalandars, respectively.
The 41-year-old left-hander expressed sadness at not being able to commit himself for the entire duration of HBL PSL 6, which ends on March 22, since he will be available for Quetta during the Lahore leg of the competition that starts from March 10.
"To be honest it is sad to leave at this point in time because I wanted to play the full PSL and that's why I put my hands up this year for the player draft. My desire was to come here and dominate and give the fans something to cheer about after being to Pakistan after a long gap of something like 15 years," Gayle said.
WI star leaves Quetta Gladiators for national duty
"It's therefore unfortunate that I've to leave after just two games for national duties but as we all know Lahore is still there come the second round. So there's still a lot of cricket to play and I am really looking forward to visit Lahore."
Gayle said the excitement that PSL provides is somewhat dulled because only 20 percent of fans are allowed to fill up the stands during each game.
"I wish there were more fans here but I simply love that buzz and passionate involvement of the fans. It would fantastic to see a full house because it gives goose-bumps," he remarked.
"I just want to say that hopefully, hopefully we get that stage when the stands are packed to capacity and fans are chanting with good quality bowlers running in at you because that's how we can give fans something great to be entertained about."
Commenting on Quetta's dreadful start and his own form, Gayle stressed that his side shouldn't panic in spite of the results not going their way.
"Yeah, the start has not been as Quetta Gladiators would have wanted but it is very early days in the tournament. So far team batting second have had more chance of winning but we aren't thinking on those lines as yet. You know we maybe two down but hopefully we'll be back," the big man said.
"It feels good to be among the runs. I got runs [39] in the first game versus Karachi Kings] as well but having said that I wanted to bat deeper against Lahore. There were few chances here and there [he was dropped thrice on 12, 20 and 31] but that it doesn't show on the scoreboard.
"You know getting 68 on a wicket that was difficult [to bat on] in the earlier period of play because it was pretty slow and the ball was holding up. They [Lahore Qalandars] have a brilliant line-up and they bowled extremely well. The captain [Sarfaraz] and I were required to consolidate after losing two wickets upfront. I thought we did a fantastic job to build a partnership [101 in 68 balls] and eventually we did well to get 20 extra runs at the backend [of the Quetta innings]."
Gayle was philosophical about playing cricket and staying in bio-secure bubble during the Covid-19 pandemic. "It is a miracle that we are playing during this particular time, which itself is a blessing. I just hope things can get better in the future.
"Things are quite tough with the world almost at a standstill. We must not take life for granted when things start getting back to normal ways. People are at a distance, having to live in the bubble," the West Indies star said.