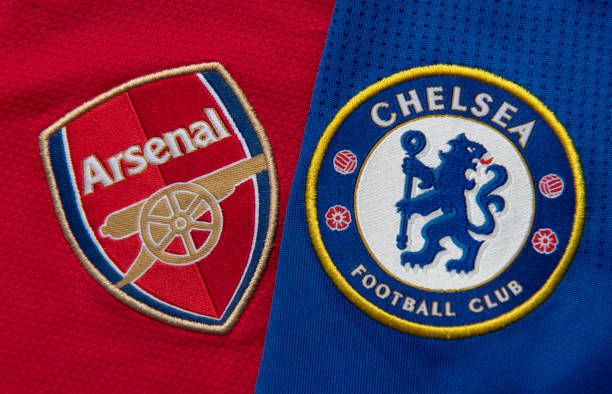 Chelsea 0-4 Arsenal: Thomas Tuchel's Blues are HUMILIATED in Orlando after goals from Gabriel Jesus, Martin Odegaard, Bukayo Saka and Sambi Lokonga help secure win over rivals ahead of new season
It was Orlando, it was July and the joke about the Florida Cup being played out in the city of Disneyworld and Mickey Mouse is an obvious one.
But let's be clear – for all that this was a pre-season kickabout – Arsenal already look a million miles ahead of Chelsea in the race for the magic kingdom of the top four.
As they jet across the Atlantic on the way home, Mikel Arteta could be forgiven for ordering a glass of wine or two. Thomas Tuchel may want to hit the recline button on his flat bed. Unfortunately, when he wakes up this will not have been a bad dream.
Arsenal scored four, Chelsea scored none. It could have been more. Those from the London's north looked balanced, sharp and cohesive. Those from the west looked a rabble.
Fine first-half goals from a fizzing Gabriel Jesus and Martin Odegaard killed what rarely looked like a contest. Bukayo Saka's second-half tap-in and Albert Sambi Lokonga's header added some justice to the scoreline.
They will rightly be wary of false dawns at the Emirates, but this looks a focussed side which – if it can stay injury free – oozes creativity.
In £45m Jesus, a man who was consistently inconsistent at Manchester City, they appear to have found someone to convert the many chances they make.
The Brazilian pulled off a lovely dink to get the better of Edouard Mendy in the first-half
On the left, Jesus's former City team-mate Oleksandr Zinchenko, full of driving runs and shrewd interceptions, looked like he had been playing for the Gunners for years. He was, in fact, making his debut.
You get the impression that Tuchel has not been a big fan of Chelsea's trip, which has seen them rattle through time zones and intense heat.
You also get the impression that he has not been a big fan of his side's laborious performances. The German ripped into his players following their drab penalty shootout loss to Charlotte FC and was at it again here, furiously gesticulating from the bench.
Fitness may well have played a key role and Arsenal, with one more match under their belts, looked sharper. But when Tuchel needs to find answers with the clock ticking towards the start of the season. It seems obscene, given the amount of money Chelsea have spent on strikers, that they still need one.
And yet here we are. The club's new American owners in attendance, blameless in a situation that would be comical should it not be so grave, have every right to feel short-changed. It is very, very early days but for one night at least, Raheem Sterling did not have the same impact as Zinchenko in the 45 minutes they both spent on the field.
Thomas Tuchel was visibly displeased with his Chelsea side after the opening 45 minutes
Bar the lack of aggression and hurls of abuse from the stands, this felt like a proper game and to the 63,811 who flocked here, it was. There is a lot of snobbery about taking the nation's game to the US in the UK and there should not be. This is a largely knowledgeable, loyal and passionate fanbase.
The vast majority of people present had taken flights and booked expensive hotel rooms to be here. On Saturday night, the Irish bars of downtown Orlando were packed with fans of both clubs, without a hint of trouble
Just as with the NFL matches at Wembley, taking the game to a global stage should not be snootily sniffed at. The Camping World Stadium was split into two, raucous halves of red and blue, The Liquidator boomed out of the speakers and Gunnersaurus happily mooned the Chelsea supporters before kick-off. The match will be long remembered by those who rarely get a chance to see their team in the flesh, especially those in red.
Arsenal had seen off Everton and Orlando City and came out the fresher of the two. Any hint that this may just be a kickabout was quickly dealt with when Sterling clattered former team-mate Jesus, pretty much from the kick-off. Perhaps belated retribution for the chances he missed while the pair were at the Etihad.
Arsenal fans were in great voice throughout the game at the Camping World Stadium in Florida
From a wasted Chelsea corner Arsenal surged forward, with Gabriel Martinelli playing in Saka who short at Edouard Mendy's legs.
Earlier on the tour Mendy had bristled at suggestions from reporters that he may be working on his distribution. If he was your postman, you might want him sacked. Twice in the space of two minutes poor clearances put his side under pressure but it was Trevoh Chalobah whose error proved fatal when he misplaced a pass into the path of Granit Xhaka who, with one touch, played in Jesus.
Showing a composure rarely seen at City, the Brazilian calmly advanced towards Mendy before delicately chipping the Frenchman to give the Gunners the lead and make it four goals in four pre-season matches.
Tuchel leapt angrily off the bench and at the drinks break was at it again, gesticulating to his side.
The Gunners final pre-season match will see them take on Sevilla in the Emirates Cup
It appeared to make little difference. On 36 minutes the lead was doubled when Martinelli slid the ball through for Odegaard who took one touch, turned and drilled across a stationary Mendy and inside his far post. It started from a Mendy kick.
A Reece James cross that evaded everyone – perhaps underlining how much Chelsea need a striker – at least showed a sign of life, while Mason Mount struck a post with the last effort of a lopsided half.
A dull start to the second, which had the crowd reaching for the Mexican wave, lasted 20 minutes before Arsenal made it three. Martinelli and Xhaka both saw shots saved by Mendy before Saka, looking suspiciously offside, tapped in.
Michy Batshuayi, whose wasting of chances on this tour has been a sight to behold, headed wide shortly after. Just when those of a Chelsea persuasion may have reached for the bottle, it was announced that the stadium had suspended alcohol sales. It was that kind of night for them. It got worse when Lokonga headed in Cedric's pinpoint injury-time cross. At least £34m Kalidou Koulibaly got his first minutes.
Both sides were expected to take off at similar times for London. Arsenal will probably win that race, too.