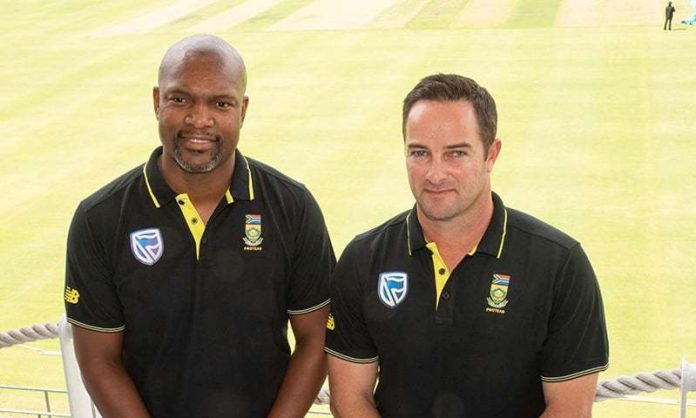 KARACHI: South Africa head coach Mark Boucher was in no doubt on Monday when he said that the playing conditions confronting his charges in the first Test against Pakistan are somewhat contrast to those he played on previous three Test tours here.
The 44-year-old Boucher — Test cricket's most prolific wicket-keeper with 555 dismissals from 147 matches — was candid in stating during his pre-match media conference that the conditions he had had in his before arriving in Karachi on Jan 15 are different.
"I thought before we departed from Johannesburg that there would be encouragement for seamers to get reverse swing could be a major factor on dry pitches. But the weather here [in Karachi] offers a big contrast to what we saw during our last tour here in 2007," Boucher said during the virtual presser.
"We are doing a rethink to our [game] plans. Previously, we were in Pakistan during October-November and conditions at the time of the year favoured reverse. We think the pitches will be on the slower side and will suit spinners more [than seamers].
"This is the first time we are playing in January here when the climate is much cooler. Because of it now we are not sure how much of a weapon reverse swing will be and we've been only able to go to the ground over the past few days because of security measures. The outfield looks luscious and not the abrasive sort we had seen on our earlier visit to Karachi."
Boucher indicated that South Africa will employ more than one spinner — Keshav Maharaj being the preferred choice — rather keep relying their predominantly pace attack.
"I have no doubt in my mind that we will definitely play more than one spinner. We have different options in this regard in our squad," Boucher said. "At the same time we have got the mindset that we aren't scared to go out and try something different than normal. This is how you expect to win a series away from home because you are prepared for all types of permutations and looking at the squad we have brought here is based on the conditions here.
"And if you see what Pakistan have done, you'll notice they have focussed on bowlers and will play with a spin mindset. Then we also have to believe we can do it too in these conditions."
While Maharaj is a certain starter, Boucher hinted Tabraiz Shamsi and George Linde — both exponents of spin — are under consideration in the prevailing situation. "I think the pitches here are generally good for up to three days and then the match tends to speed up towards the backend," Boucher opined. "On flat tracks such as this one you want pace through the air and we have that. But then you start thinking about how to balance it and who'll do the containing job."
Boucher, whose playing career ended prematurely when he was struck in the eye during a match on South Africa's tour of England in 2012, pointed out the Covid-19 pandemic and hordes of security personnel have created a situation which South Africans feel as extremely challenging.
"Life in the [bio-secure] bubble is very tough for the entire squad [of players and the backroom staff] both mentally and physically and when you are in Pakistan no one is allowed to go outside. My point of view is clear that staying in the bubble isn't that easy because my view is that is imperative for cricket to be up and running."