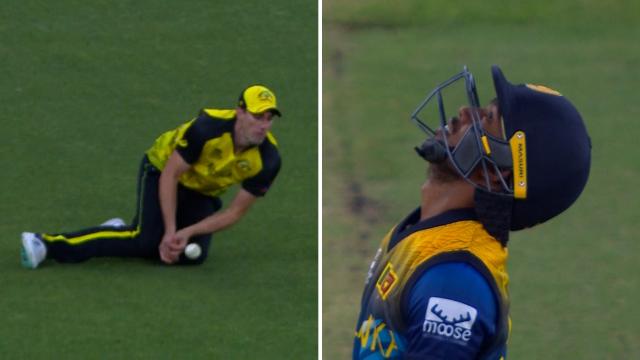 Aussie blushes spared as Stoinis' record 18-ball destruction stuns World Cup
A Marcus Stoinis classic spared Australia's blushes at the T20 World Cup on Tuesday as the hosts beat Sri Lanka in Perth by seven wickets to keep its tournament alive.
Australia was desperately struggling in a chase of 6-157 until Stoinis came to the crease and blasted the fastest half-century ever in T20 cricket by an Australian.
He took just 17 balls to go past fifty, and finished with 59 not out off 18 balls.
Australia was only 3-89 after 12.2 overs when Glenn Maxwell departed. Stoinis then single-handedly swung the game in Australia's favour, turning the nation's struggles into a big seven-wicket win with 21 balls remaining.
Aaron Finch was the other unbeaten batter, although his 31 runs from 42 balls do not tell the full story about how badly he struggled to find the middle of the bat.
Finch never found his feet — his 42-ball innings included only one boundary and several close calls, particularly early on.
Nonetheless, he survived, as did Australia with Glenn Maxwell (23 off 12 balls) and Mitch Marsh (18 off 17) also providing handy cameos.
Australia started off its chase perilously slow, however, with not one boundary hit within the first seven overs.
The hosts lost David Warner in the fifth over for 11, while they were just 1-38 after seven overs as the pressure built.
Marsh was dropped on two but could only go on to make 18, while Maxwell started fast with 22 runs off six balls, but was felled by a 137km/h bouncer from Lahiru Kumara that struck him on the throat.
He didn't last much longer and was caught on the boundary for 23 off 12 runs before Stoinis stamped his authority on the tournament.
Stoinis smoked six boundaries and four fours in his 18-ball demolition. He made 17 runs from his first eight balls, before exploding with another 42 off the next 10.
It was a crucial result for Australia that has now boosted its net run rate having suffered a heavy loss to New Zealand on Saturday.
Australia's next match is against England in Melbourne on Friday night (7pm AEDT).