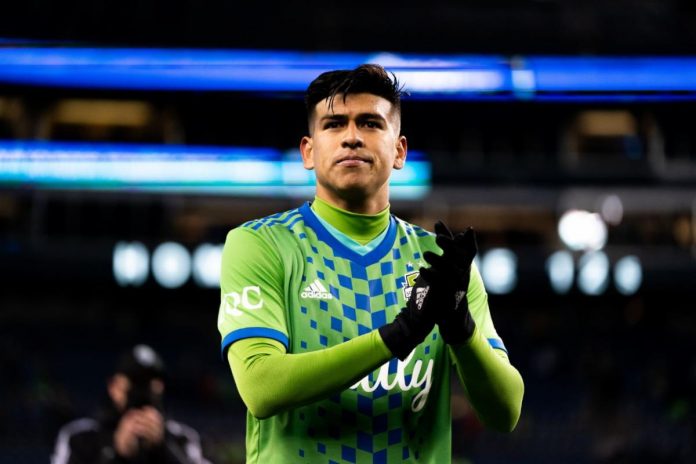 Arreaga Named to Ecuador Final Roster for FIFA World Cup Qatar 2022
SEATTLE, WASH.– Sounders FC defender Xavier Arreaga has been named to the Ecuador National Team roster for the FIFA World Cup Qatar 2022™. This marks the first FIFA World Cup call-up for Arreaga, who was included in Head Coach Gustavo Alfaro's 26-player roster for the upcoming tournament. Arreaga joins Jordan Morris, Cristian Roldan and Nouhou as current Sounders FC players on their way to Qatar this month, with the Rave Green sending the most players to a single World Cup in franchise history.
This marks the first FIFA World Cup appearance since 2014 for Ecuador, who was drawn into Group A earlier this year and is set to play host country Qatar on November 20, Netherlands on November 25 and Senegal on November 29.
"We are extremely proud of Xavier and wish him the best representing Ecuador at the World Cup," said Sounders FC General Manager & President of Soccer Garth Lagerwey. "He's been an important member of Ecuador's squad over the past few years, so we're proud to see him rewarded with the opportunity to compete on the world's stage."
Arreaga, 28, has 17 career caps for La Tri dating back to 2018, including nine appearances during the squad's FIFA World Cup qualifying campaign, scoring his lone international goal in a 6-1 win over Colombia on November 17, 2020. Arreaga has made 99 appearances for the Rave Green in all competitions since joining the squad in 2019, scoring three goals. He was named to the 2022 Concacaf Best XI squad after Seattle's title-winning run earlier this year.
"Congratulations to Xavi for the incredible opportunity to compete at the World Cup," said Head Coach Brian Schmetzer. "His hard work and commitment to his national team have been evident since he arrived in Seattle, and we look forward to seeing him compete alongside other Sounders in Qatar."
Arreaga joins teammates Jordan Morris (United States), Cristian Roldan (United States) and Nouhou (Cameroon) in Qatar, who were all named to their countries' respective final rosters last week. The four current players are the most that the Rave Green have ever seen selected for the tournament.
Sounders FC finished the 2022 campaign with a 16-17-5 record across all competitions. The Rave Green became the first MLS side to win the Concacaf Champions League title in the spring, before a regular season that fell short of the Audi MLS Cup Playoffs for the first time in the club's 14-year history. Seattle heads into the offseason with its sights set on the 2023 campaign, which begins with the FIFA Club World Cup.