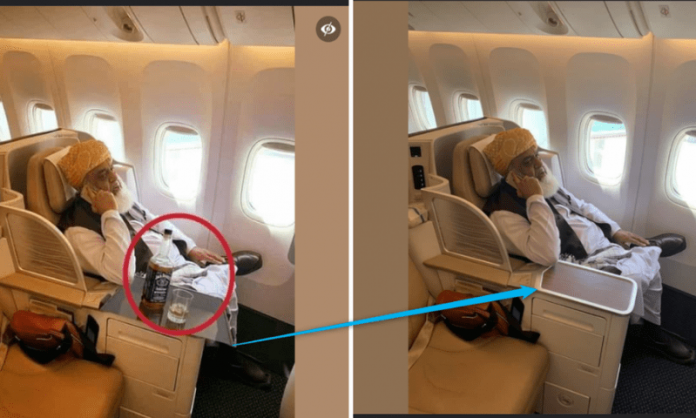 A photo of Jamiat Ulema-i-Islam (Fazl) chief Maulana Fazlur Rehman has been shared hundreds of times in multiple posts on Facebook and Twitter alongside a claim it shows him on board a plane with a bottle of whisky on his table. The claim is false; as the photo has been digitally manipulated to include the whisky bottle.
The photo was published in this Facebook post on September 25, 2020.
It has been shared more than 540 times. The photo, however, has been flagged by Facebook as 'False Information'.
It purports to show Rehman sitting on board a plane with a bottle of whisky on the table next to him.
The post's Urdu-language caption translates to English as: "The fans of diesel … who consider him an Islamic scholar…… I think it is Rooh Afza … what does it look like to you?"
Diesel is a reference to Rehman for his alleged participation in graft involving fuel licenses.
The post appears to make a tongue-in-cheek reference to Rooh Afza, a herbal drink.
Many Facebook users commented on the post to claim the photo was "fake", but some Facebook users criticised Rehman for purportedly sitting next to a bottle of whisky.
Below are screenshots of comments in Urdu which translates as: "Curse (on him)" and "Maulana is drinking petrol".
The cabin layout, seats and colour scheme of the plane correspond with the interior of an aircraft belonging to Saudi Arabian airline Saudia.
Interior photos of a Saudia Boeing 777 published by Germany's frequent flyer and travel show that the plane's side tables have a cream-coloured frame and a brown table top.
The airline does not serve alcoholic drinks on board according to this notice posted on its website.