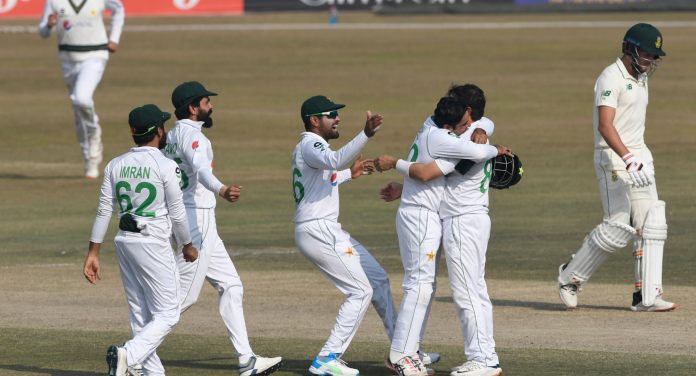 The handicap is finally lifted
For the past decade or so, Pakistan had played international cricket with a major handicap. That disability is no more.
No disrespect to Sri Lanka, West Indies, Bangladesh and even Zimbabwe but their tours of Pakistan were mere milestones than the watershed moment that is South Africa's arrival.
The Proteas represent the biggest and toughest team to arrive on these shores in more than 12 years. And now that they are here and have finished a series, it is there to see why bringing top opposition to Pakistan was held so much dear by the cricket board.
It wasn't about the money. Or at least it wasn't just that. It was also interlinked with the players' growth. The trite saying that "to be the best, you have to beat the best" was at work. A dominant win over a team of South Africa's calibre could instill the level of confidence we often wonder how our IPL-playing neighbours have.
It's no surprise then that just two matches later, we can see so many of Pakistan players far more mature than before. Suddenly, Fawad Alam appears the team's bona fide man of crisis; Rizwan one of the better keepers in the game; Hasan Ali the comeback king and Nauman Ali and Yasir Shah the Wasim and Waqar of spin.
Fawad Alam's lost years
We are living through the era of inquiries, investigations, commissions, accountability and whatnot. It's a pity that the same are not en vogue outside of political matters and in the sports industry.
A National Accountability Bureau for cricket may sound farcical but if something similar does come into existence, it would open more cans of worms than we can handle.
For Fawad Alam to be shelved for 10 years appears a greater crime with each passing match. At the very least, the personnel behind the obvious blacklisting of the leftie need to be blacklisted from any selection or coaching jobs. It's as blatant and as lengthy a violation of merit as there has ever been in not just cricket but all of sport.
A-bid farewell?
Kagiso Rabada, Lungi Ngidi, Shaheen Afridi, Keshav Maharaj and Arnrich Nortje are the only five players who scored less runs than Abid Ali in the series.
All five are bowlers.
For you to fare this horribly, you have to be in a special kind of rut — and he is. It's been five Test matches and 11 innings since he last scored a fifty. In fact, since scoring a debut 109 and a 174 in the next game, the diminutive batsman from Lahore has completely lost track. His average over the last 14 innings has been an abysmal 17.7.
Stickler for stats Mohammad Wasim will find it hard not to drop Abid when the next squad is announced.
Do you let Imran Butt 'slip' away?
While Imran Butt, too, failed in each of his four innings, he grabbed a series-high of six catches — mostly in the difficult slip cordon. Some of his catches were not even meant for him but he flew and swooped in, not trusting his mates, and for good reason.
It's often said that catches win matches. Butt's catches certainly played their part in Pakistan's win. But will they be enough to earn retention? The chief selector will have some difficult decisions to make come next Test series.
Misbah, Waqar can breathe easy… for now
Chief selector Wasim could not have dreamt of a better start. He made drastic changes to the squad and almost all of them worked. He will sit comfortably for a while.
Also sitting comfortably and breathing a sigh of relief will be head coach Misbahul Haq and bowling guru Waqar Younis, both of whom were under tremendous pressure coming into the series.
After New Zealand loss, another one at home would have brought them closer to the chop. Fortunately for them, the team woke up and put in a dominant display just when needed… or just when they needed it.
The relief, though, comes with an expiration date. Anything less than a win in the T20 series and fingers will instantly be pointed towards them.
---
Header photo: Captain Babar Azam (C) celebrates with teammates after winning the Test series against South Africa during the fifth and final day of the second Test cricket match at the Rawalpindi Cricket Stadium in Rawalpindi on February 8, 2021. — AFP