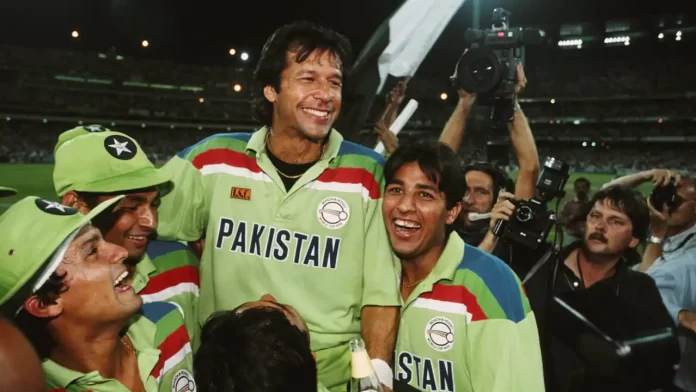 The Pakistan Cricket Board (PCB) finds itself entangled in a social media storm as criticism mounts over the perceived politicization of sports. 
This uproar stems from the omission of former cricket captain and prime minister, Imran Khan, in a legacy video released to commemorate the country's Independence Day.
Imran Khan's indelible legacy in cricket is marked by his exceptional leadership and formidable bowling prowess. It was under Khan's captaincy that the national cricket team secured their sole ODI World Cup victory in 1992. His cricketing journey saw him amass a remarkable record of 362 Test wickets across 88 matches and an additional 182 wickets from 175 ODI matches.
On the eve of Independence Day, the cricket board unveiled a video that aimed to spotlight the team's most illustrious achievements spanning back to the 1950s. Notably, the video showcased pivotal moments from Pakistan's triumphant 1992 World Cup conquest.
However, the absence of Imran Khan in this visual narrative has drawn significant public attention. The juxtaposition of his absence against the backdrop of his pivotal role in Pakistan's cricket history has ignited widespread debate. Social media platforms have become a battleground for cricket enthusiasts and concerned citizens alike, as they voice their discontent over what they perceive as the intertwining of politics and sports.
The controversy surrounding the legacy video underscores the delicate balance between commemorating the nation's achievements and navigating the complex interplay between sports and politics. As PCB attempts to navigate this tempest of public opinion, the legacy of cricket and its integral figures like Imran Khan continue to evoke passionate discussions about the intersection of sports, nationalism, and identity.